Ashland's Downtown has a lot to offer…next to the water!
Shop Local Artisan-baked bread. Fine art. Handmade German chocolates. And snowshoes?
It's all in the unique mix that makes Ashland the Heart of the Chequamegon Bay.
For your next adventure, explore our unique shops, galleries and specialty stores where you'll find everything from local delicacies and gourmet delights, to outdoor gear, clothing and fine art.  Searching for that perfect gift for someone special?  There are so many intriguing possibilities as you stroll through Ashland's historic Main Street district.
Know your Main Street Neighbors.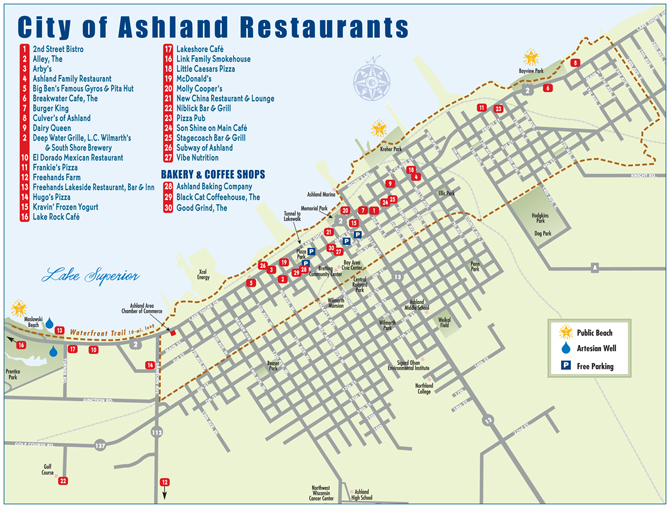 Fine dining. Cafés. Fast food. And a brewery?
It's all in the unique mix that makes Ashland the Heart of the Chequamegon Bay.
Although known for its natural wonders, scenic beauty, and wealth of fun events, Ashland also offers visitors a wide variety of mouthwatering mealtime choices. Check out one of Ashland's locally-owned eateries for home-cooked specialties or sip an award-winning microbrew with your meal. Gather local organic treats and artisan breads and cheeses for a picnic in the Northwoods.
Whether you like your crust thick or thin, Ashland offers an abundance of amazing pizza choices. Grab a slice of taco pizza heaven at Hugo's or have Pizza Pub deliver your pepperoni pie for free. Enjoy a savory margherita pizza from The Alley or a stuffed-crust delight packed with toppings from Frankie's Pizza.

Ashland has been designated the "Historic Mural Capital of Wisconsin".  Murals are mostly located in Ashland's historic downtown shopping district.  Click here for the Mural Walk.
Here is a list of some of the fun events that happen in Downtown Ashland.
Click the image to find out more about each event.
Promote local spending!  Chamber Dollars are the Chamber's gift certificate program.