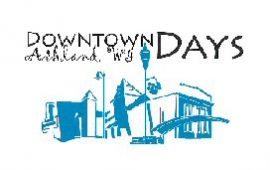 Downtown Days
August 3 & 4
Come Celebrate Ashland's Downtown with us!
Downtown Merchants Sidewalk sales, food & craft vendors, music, Car Show and a lot more.
CRAFT VENDORS WANTED!  click for a vendor form
Friday, August 3: 
Downtown Merchant Sidewalk Sales
Food Vendors, Northern State Bank Regional Hospice Rummage Sale Fundraiser.
NorthLakes Celebrate Children 10am-2pm.  face painting & snacks.
JD Bass 11am to 2pm
Pucky and Brian's Acoustic Show 2-4pm
Vaughn Library Wrap up Rave Party at Pearson Plaza Park 4-7pm with JD Bass Entertainment.  Celebrate the end of the year Summer Reading Program.  Come dressed as your favorite rocker.  Dance contests, games & a picnic to boot!
Movie at Plaza Park at dusk (8:30pm)  Mrs. Doubtfire!
Saturday August 4,
« Back to event list