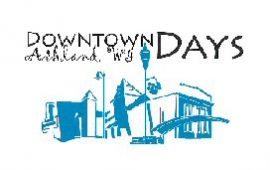 Downtown Days
August 2 & 3
Come Celebrate Ashland's Downtown with us!
Downtown Merchants Sidewalk sales, food & craft vendors, music, Car Show and a lot more.
This year music on Friday night with the Chequamegon Bay Concert Band and Robby Vee!
CRAFT VENDORS WANTED!  click for a vendor form
CLASSIC CAR SHOW FORM! click for a car show form
Friday, August 2: 
Downtown Merchant Sidewalk Sales
Food Vendors, Northern State Bank Regional Hospice Rummage Sale Fundraiser.
Vaughn Library Art Tent & Book Nook 10am-1pm
JD Bass 11am to 2pm
Fire Truck on Main Street 11am-3pm
starting at 5pm the Chequamegon Concert Band followed by ROBBY VEE!  Robby Vee sponsored by Bob's Factory Outlet.
Saturday August 3:
Farmers Market between City Hall and Burger Barn. 8am-12noon
Downtown merchants Sidewalk Sales
Classic Car Show 9am-1pm
Food & Craft Vendors  9am-3pm
Garden Tour 9am-12noon & Plant Fundraiser 9am until plants are gone near Otis Park.
Chequamegon Food Coop Summer Bash, 11am-1pm. Americana music by Clayton Toman, Ice Cream Social (with proceeds to the BRICK), Face painting by ReMarkieable, Free lemonade and popcorn, Brats for sale, Bounce house, Old-fashioned lawn games and Mural dedication.
Ice Cream Social at the Ashland Museum, 11am-1pm
« Back to event list