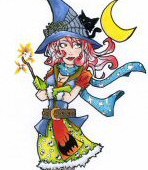 Witches' DAY Out
October 22, 2020
10am-7pm
Winner of $50 in Chamber Dollars – Rachael Keenan
Witches' Night Out is a fun night of shopping and being appreciated.
October 22, 10am.- 7pm.
On "Witches' DAY Out", visit participating businesses,
and register for a chance to win the grand prize:
$50.00 in Chamber Dollars!

Stop by area retail businesses between the hours of 10am and 7pm for some spooktacular specials.
Also local dinning deals as well!
Click here for a printable pdf version.
Bone rattling deals from 10am-7pm unless otherwise noted.
¨ A 2nd Look…311 West Main Street. Fly in from 10am –7pm and get blue ticketed items at 99 cents and 1/2 off red ticketed items.
¨ Bay City Cycles…412 West Main St.  A spooky deal of 20% off summer gloves and 20% off helmets. In stock items only while supplies last.
¨ Chequamegon Food Co-op… 700 W. Main St. Pumpkin spice and everything nice! Stop in a register to win a gift basket!
¨ Color Center … 121 Main Street East.  Buy One/Get One Free Color Samples and 10% off all Benjamin Moore Paint. 10am-5pm.
¨ Gabriele's German Cookies & Chocolates…413 W. Main St.   Swoop in for 25% off witches.
¨ Home Expressions…116 W. Main St. Crawl in and receive 30% off all fall and Halloween items.
¨ maurices…2418 E. Lake Shore Dr. Witches' stop in for drawings and mystery sales!
¨ Moores On Main…505 Main St W. The leaves are falling and so are the prices on Witches' DAY Out!  All Regular Priced Items 20% OFF and Clearance Items 50% OFF!
¨ New England Store…518 W. Main St. Fall and Halloween items will be on sale!!!! Enjoy scary deals throughout the store.  Sign up to win a Gift Certificate!
¨ Omer Nelson Electric…316 Main Street East.  Creep in 7am to 5:30pm for 36-packs of RadioShack Alkaline AA or AAA batteries for $11.99 each.
¨ Red Bicycle… 618W. Main St. Stop in for a spell and with any purchase enter our drawing for a chance to win a $25 gift card.  All
Kelly & Crew clothing will be 25% off.
¨ River Rock Inn & Bait Shop…1200 Lake Shore Dr West.  Swoop in during Witches' DAY Out and receive 15% off on all Lake
Superior jewelry (handcrafted, necklaces, bracelets, earrings in sterling silver, silver, copper, and gold) and 15% off any Costa Del Mar sunglasses in stock (currently not on sale).
¨ Sears Hometown… 811 3rd Street West.  End of Season Monster Clearance Event in Tools and Lawn & Garden – Additional 10% off Closeout prices.  Up to 30% off Appliances PLUS an additional 5% off OR 12 months Special Financing on purchases $299+ when you use your Sears Card.
¨ Sherwin Williams…314 Lake Shore Dr East.  Mention Witches DAY Out and get 30% off all paints and stains.  Excluding Multi
Surface Primer and quarts of Minwax products.  Boo!
¨ Solstice…400 W. Main St.   Something Spooktacular to you from our crew! 30% OFF ENTIRE store! .
¨ Shoe Shack…. 408 Main St W. Stop in during Witches' DAY Out and Save!  20% OFF All Regular Priced Items, including shoes, boots, sandals, socks purses, athletic bags and clothing.
¨ St's Hardware (Formally McRae True Value )…118 Prentice Ave.  Dust off your hats and fly in to receive 20%off all lawn and garden and snow shovels.  Sale 10am-6pm.
¨ Superior Floral & Gifts…420 Lake Shore Dr West. Blow in for 25% of all fall décor.  20% all floral in case & plants. Sign up for
prizes! Delivery fee extra.
¨ The Bargain Hut…420 Chapple Ave.  Stop in dressed as a witch from 9am-4pm and receive 50% off your entire purchase.
¨ Upper Cut…400 3rd Ave West.  Fly in for a hair raising 30% off all products.
Restaurants are having ghoulishly delightful deals
¨ Chequamegon Grill in The Hotel Chequamegon…101 W. Lake Shore Dr. Stop in from 4-7pm during Witches' DAY Out and receive 10% off any food item and $1.00 off any cocktail.
¨ Deep Water Grille…808 W. Main St. Dust off your hats & brooms from 4-8pm and come join us for a spell at The Deep Water Grille/The Alley. We will be featuring your favorite Witches Brew (pitcher of Margarita's) for only $15.00, 2 Sushi Rolls for $16.00 and Beef Nachos for $9.00!
¨ El Dorado Mexican Restaurant…. 2320 West Lake Shore Drive. Fly by and purchase a special to go Margarita 11am-9pm.
¨ Hugo's Pizza…221 Sanborn Ave.  Poof …$5 off an order of $25 or more.
¨ New China Restaurant….300 Lake Shore Drive West.  Stop in and mention Witches' DAY Out and
receive 10% off your order. 11am-8:30pm.
¨ Pizza Pub…1402 E. Lake Shore Dr. From 5-8pm, get a ghoulishly delightful 10-oz. Prime Rib with the Salad Bar included for only $12.99.
¨ Sandbar…2521 West Lake Shore Dr.  Swing into the Sandbar and take $1 OFF any beverage when you mention "WITCHES DAY OUT" Open 8am to 6pm
¨ Second Street Bistro…201 E. Main St. During Witches' DAY Out from 7-9pm, offering buy one get one free drinks.
¨ Scott & Ar's…612 Main Street West.  Fly in for $2.50 wines.  A hair raising special 2-7pm.!!
« Back to event list