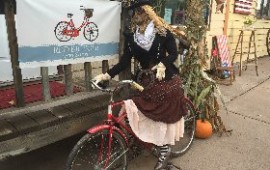 It's time to build a scarecrow! Let's have some fun!!
Attention, Chamber Business Owners:
2021 Scarecrow Contest
September 27- October 10
Chamber Members! Have fun being creative as you design and build a scarecrow out of whatever materials you like. (Scarecrows must be displayed outdoors to be eligible win)
First place prize is $75 in Chamber Dollars, Second place prize $50 in Chamber Dollars, Third place prize $25 in Chamber Dollars.
Again completed scarecrows should be on display October 12 through October 21.
Be sure to call (715-682-2500) or email the chamber (info@visitashland.com) register your scarecrow with the Chamber!
Past Scarecrows
« Back to event list