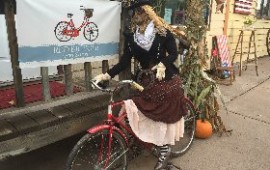 It's time to build a scarecrow! Let's have some fun!!
Attention, Chamber Business Owners:
2019 Scarecrow Contest
Sept 20 – October 12
Chamber Members! Have fun being creative as you design and build a scarecrow out of whatever materials you like. (Scarecrows must be displayed outdoors to be eligible win)
First place prize is $75 in Chamber Dollars, Second place prize $50 in Chamber Dollars, Third place prize $25 in Chamber Dollars.
Again completed scarecrows should be on display Sept. 20 through Memorial Medical Center WhistleStop on Oct. 12.
Be sure to call (715-682-2500) or email the chamber (info@visitashland.com) register your scarecrow with the Chamber!
Past Scarecrows
A list the of participating businesses:
Benoit Cheese, 23920 County Hwy F
Ashland Ford – 28715 US Hwy 2
Lakeshore Cafe – 2524 Lake Shore Dr W

Ashland Chamber – 1716 West Lake Shore Dr

 

Memorial Medical Center – 1615 Maple Lane
Red Bicycle, 707 West Main Street
Court Manor Health Services, 911 3rd St West
Huhn Drug, 522 West Main St
Northern State Bank – 321 Main St W
A 2nd Look, 311 Main Street West
NorthLakes – 218 Main Street West
Ashland Museum – 216 Main Street West
Holiday Station Store – 522 West Main St
« Back to event list