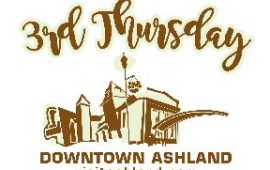 3rd Thursdays!
You know, Thirsty Thursday, Thankful Thursday, Throwback Thursday, and now 3rd THURSDAY!!!!!!
Downtown Retail Businesses will be open until 8pm on the 3rd THURSDAY of every month, with specials!!
Start making plans!
3rd Thursday in September
September, 19, 2019
Stop downtown between the hours of 4 and 8pm
and register for 1 of 3 prizes:
An iPad and 2 – $50 in Chamber Dollars!
One chance just for walking in the door, and another for each $10 you spend!!!
Bargains!!   Fun!!   An evening of shopping!
3rd Thursday Event Schedule

February: Be Mine on Main – Win an Amazing, Post-Valentine's Day Package
March: March Madness on Main –  Win a Freezer
April: Girls Night Out
May: Wine Walk
June:
August:
September: iPad giveaway
October: Witches' Night Out
« Back to event list