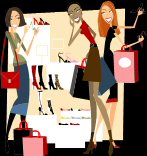 The Ashland Area Chamber of Commerce presents:
Girls' DAY – NIGHT Out
3rd Thursday!
Thursday, April 21, 2022
Stores open until 7pm!
Our Annual Girls' DAY -NIGHT Out, "Spring Fever," offers fun shopping in beautiful historic downtown Ashland UNTIL 7pm.  Enjoy great deals, specials, plus register to win a $50 in Chamber Dollars as well! (retail only) Then stop for a food or drink special from 7-9pm.
Some sales all day, some sales 4-7pm… see listing below
Retail Specials ~ 
A 2nd Look, 311 West Main Street. Ladies!…all blue tags @ 1.99, 10am-7pm.
A New Season, 420 Lake Shore Dr West. WOW! Get a free gift with a $40 purchase. 10am-7pm.
Bay City Cycles, 412 West Main Street. During Girl's Night Out, 4-7pm, take $10 off any one apparel item (limit 1 discount use per person).
Beads to Blooms, 408 Main Street West. Stop in between 10am-7pm and purchase 1 necklace and receive 1/2 off pair of earrings.
Chequamegon Home Furnishings, 401 West Main Street. Come check us out during Girls' DAY Out from 10am-7pm and receive discounts on our everyday prices. Special discount for ladies only.
Chequamegon Food Co-op, 700 West Main Street. Our special is 20% off all local products all day.
EyeGlass Shoppe, 200 Main Street West. Ladies Sunglasses 50% off – Prescription and Non-Prescription from 10-6pm.
Gabriele's German Cookies & Chocolates, 413 West Main Street. Stop in 4-7pm during Girls' Night Out for a Surprise in a cup!
Home Expressions, 116 West Main Street. 15% OFF entire store 10am-7pm.
Market on Main, 515 Main Street West. Stop in 10am-7pm for 25% off orange dot items in the back room boutique and sign up to win a gift basket from Market on Main.
maurices, 117 3rd Street East Stop in 4-7pm for Surprise Sales and Drawings for additional giveaways and savings.
Moores on Main, 505 West Main Street. On Girls' DAY Out from 10am-7pm girls & guys just wanna have fun with 20% off regular priced merchandise.
New England Store, 518 West Main Street. Stop in during Girl's Night Out for 20% off Jewelry, Purses, and Spring Items
4-7pm. Now open Monday thru Saturday.
One on One Hair Designing, 516 West Main Street, Stop in for Girls DAY Out and receive 25% off the retail, 10am-7pm.
Sears Hometown Store, 811 3rd Street West. Stop into Sears ALL DAY and get: Up to $300 off Select Appliances; Extra 5% off OR 12 months Special Financing when you use your Sears Card; Husqvarna Days – Lowest Prices of the Season on Husqvarna Riding Mowers; Extra 10% off Tractor Attachments and Accessories when you purchase a tractor and Up to 30% off Workpro Tools.
Solstice clothing & goods, 400 West Main Street. 20% OFF entire store 4-7pm, plus fun beverages + a surprise!
Superior floral & gifts, 420 Lake Shore Dr West, Stop in during Girls' DAY Out 30% off plants with a purchase from A New Season!
Tastes of Wisconsin, 420 West Lake Shore Dr. WOW- 10% off your entire purchase. 4-7pm
The Gitch Nutrition, 210 Main Street West. Stop in during Girls' DAY Out for $1 off beauty and beast tea. 6:30am to 2pm.
The Red Bicycle, 618 West Main Street. Pop in for 15% off all soaps and bath stuff 4-7pm.
Union Boutique, 100 West Main Street. spend $100, get earrings or necklace, valued at $20 or less FREE!. 10am – 7pm.
Upper Cut, 400 3rd Ave West. For the ladies 25% off all products and put your name in for a chance to win a $50 gift certificate.
Food and Drink Specials ~ 7-9pm
2nd Street Bistro, 201 E Main St. Stop in from 7-9pm and get 1/2 off a bottle of wine.
Hugo's Pizza, 221 Sanborn Ave. Stop in from 7-9pm and try our Lasagna special for $9.95 or Chicken Alfredo for $10.95.
Neighborly Bar, 1301 Main Street West. Special drinks for the ladies, plus WIN a Spring Prize, one entry per drink!
New China, 300 Lake Shore West, From 7-9pm Stop in for Broccoli Chicken Special, broccoli, snow pea pods, carrots, bamboo shoots, onions, mushroom and baby corn) for $10.59. Dinner special comes with a cup of house soup.
Scott & Ar's, 612 Main Street West. Stop in from 7-9pm for $3 Selzer Drinks.
Stagecoach Bar & Grill, 315 East Main Street. Ladies Night! 7-9pm, 2 for 1 drink special for bottles & cans of domestic beer and seltzers, and rail drinks.
The Alley, 806 West Main Street. Swing by after Girls'Night Out from 7-9pm and get a $15 pitcher of margaritas and $8 Nachos. Available in Middle Bar and Alley only.
The Local Bar & Grille, 3000 Golf Course Rd., Ladies stop after shopping for half price bottles of wine & $2 off all appetizers!
« Back to event list