Welcome to Ashland!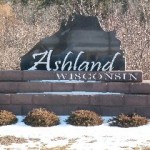 Ashland, Lake Superior's Hometown!
Your destination for year-round recreation   
The Chequamegon Bay region is among the best birding destinations in the Midwest, with a wide variety of habitats home to nearly 300 species.  Abundant public lands and extraordinary natural beauty provide visitors with unparalleled nature-watching opportunities in this exceptional area of northern Wisconsin.
Casual and avid bird watchers alike as well as nature lovers will be drawn to Ashland and the south shore of Lake Superior May 15-17 for the eighth annual Chequamegon Bay Birding & Nature Festival.  This highly anticipated weekend event features guided field trips, hands-on workshops, educational programs, exhibits, speakers, and more than 110 activities from which to choose.
In addition to exceptional birding opportunities, Chequamegon Bay offers world-class smallmouth bass fishing as well as great near-shore and deep-water fishing.  Spring finds anglers waiting for the general inland fishing opener on the first Saturday of May, though many have already been putting a bend in their fishing rods during the late-March steelhead run in the South Shore's rivers.  Ice-out is a highly anticipated event as the smelt run commences on Lake Superior and humans as well as game fish gorge on the silvery little fish.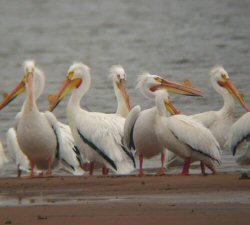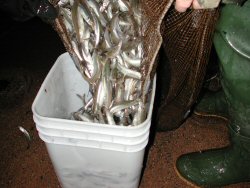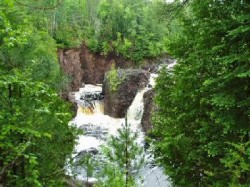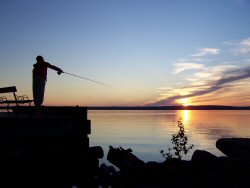 Some of the most spectacular waterfalls in the entire state are located in Ashland County.  Copper Falls State Park near Mellen features three scenic waterfalls on the Tyler Forks and Bad rivers.  Hikers will be enthralled by the breathtaking beauty of Morgan Falls, the second-highest waterfall in Wisconsin.
Shoppers will find treasures and bargains galore during northern Wisconsin's largest House-to-House Garage Sale on Saturday, May 17, featuring citywide garage sales and downtown retailers' sidewalk sales.  As you browse our many gift, clothing, sporting, and specialty shops, take the time to view the distinct architectural styles displayed throughout the downtown business district, an eight-block area of which is listed on the National Register of Historic Places.
The community's pride in its rich history is evident in its 13 vibrant murals highlighting a particular aspect of Ashland's colorful past, depicting subjects ranging from the city's lumberjacks and military veterans to its railroads, storefronts and former massive ore dock. Since 2005, Ashland has been known as the "Historic Mural Capital of Wisconsin," making the city a year-round public art destination.
Click here to view the 2014 Visitor & Activity Guide
Photos on this website are provided by Monroe Photography.

Event Calendar
Plan your visit
Businesses
1716 West Lake Shore Drive Ashland, WI