Welcome to Ashland!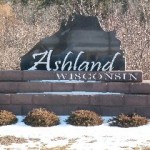 Ashland, Lake Superior's Hometown!
Your destination for Winter recreation
Winter brings anglers out in droves for ice fishing on the bay and the area's many well-kept trails are a snowmobiler's paradise.  The region's spectacular ice caves,  part of the Apostle Islands National Lakeshore, are like no other spot on earth. The most up-to-date information on ice conditions is always available on the Apostle Islands ice line: (715) 779-3398, ext. 3. Be sure to phone ahead before venturing out to discover the frozen beauty of these world-famous sandstone sea caves. (news video of ice caves) (news video from Australia)
Cross-country skiing and snowshoeing are also popular cold-weather pastimes and offer a great way to take in the area's natural beauty at a slower pace.
As the county seat of Ashland County and the commercial hub of the Chequamegon Bay region, Ashland is proud to provide visitors with a wonderful variety of restaurants and shops certain to please any taste or interest. Historic downtown Ashland is characterized by its extraordinary brownstone buildings. As you browse our many gift, clothing, sporting, and specialty shops, take the time to view the distinct architectural styles displayed throughout the downtown business district, an eight-block area of which is listed on the National Register of Historic Places. The community's pride in its rich history is evident in its 13 colorful murals highlighting a particular aspect of Ashland's past, an ongoing project resulting in the city's designation in 2005 as the "Historic Mural Capital of Wisconsin." No matter the season, the community cordially welcomes visitors to enjoy and explore this shining jewel crowning the greatest of the Great Lakes, Ashland – Lake Superior's Hometown.
Click here to view the 2014 Visitor & Activity Guide
Photos on this website are provided by Monroe Photography.

Event Calendar
Plan your visit
Businesses
1716 West Lake Shore Drive Ashland, WI