Welcome to Ashland!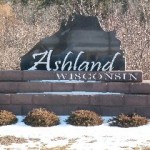 Ashland Lake Superior's Hometown!
Nestled on the south shore of Lake Superior's Chequamegon Bay, the City of Ashland boasts a unique mix of historic charm and modern convenience. Ashland's location makes it an ideal jump-off point for both the Apostle Islands National Lakeshore and southern Ashland County, home of Copper Falls State Park. The city spreads out along U.S. Highway 2, embracing the shore of the sparkling blue lake. Ashland provides endless waterfront activities. There are several public beaches that offer clean, bright sand and, of course, the irresistible clear, fresh waters of the lake. The Lake Superior Waterfront Trail is a continuous 10-mile loop trail linking the waterfront portion – Maslowski Beach on the west to beyond Bayview Park on the east – to the 5th Street corridor back through the city. Ashland is home to a convenient, centrally-located, full-service 140-slip marina.
As the commercial hub of the Chequamegon Bay region, Ashland is proud to provide visitors with a wonderful variety of shops and restaurants to please anyone. Historic downtown Ashland is characterized by the extraordinary brownstone buildings. As you browse our many gift, clothing, sporting, and specialty shops, take the time to view the distinct architectural styles of the downtown buildings. One of the remaining historic landmarks is an oredock, once used for shipping iron ore. It was at one time the largest concrete structure of its kind. The community's pride in its history culminated in the production of eleven murals highlighting a particular aspect of Ashland's history. Ashland is also the county seat of Ashland County.  Click here to download the Ashland County Visitor Guide or here to have a Visitor Guide mailed to you.
Photos on this website are provided by Monroe Photography.

Event Calendar
Plan your visit
Businesses
1716 West Lake Shore Drive Ashland, WI