What's Happening this Week!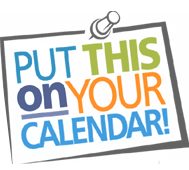 Start

November 30, 2022
3:00 am

End

August 23, 2023
Area Activities:
What's happening for the next week?
November.
11/14-12/9/2022
Annual Ashland Firefighters' Toy Drive. Sign up: November 15- December 9.   To donate: Bring new, unwrapped toys to any drop-off site (Wal-Mart) or to the Fire Station. Cash donations are accepted at the Fire Station, 217 East 6th St. To sign up children: Please call RSVP at 715-292-6400 Ex 1 or 2. They must be age newborn to 12 years and signed up by December 9th. The Ashland Firefighters Toy Drive is now a 501c3 organization and all donations are tax deductible. Cash or check accepted. Please make checks payable to Ashland Firefighters Toy Drive. Donations accepted year round. Toys will be distributed on December 14 from 10am-6pm at the Bretting Community Center, 400 W. 4th Ave. For more information or a list of drop-off sites, call 715-682-7052.
11/30/2022
Kyle Lundmark's Karaoke Party at Stagecoach Bar & Grill. 8pm-12am. A special Birthday Karaoke Night to celebrate our dear friend, Kyle Lundmark. That's right, Brother! At Kyle's request, he would love to see you come dressed as your favorite WWE Wrestler, Super Hero, Super Villan, or just come as you are. Free &  Open to the public. Song books will be out at 7pm. Come early and try our new BBQ & Smoked Meats menu!
DECEMBER
12/02/2022
Ashland's 4th Annual Tree Lighting Ceremony will take place starting at 5:30 pm. Meet us in Pearson Plaza for a proclamation from Ashland's mayor, Deb Lewis, the tree lighting countdown, caroling, kids activities, and refreshments.
For more information call 715-682-7071.
12/03/2022
The Local will be hosting a fun-filled day to kick of the Holiday Season from 9am – 8pm.  9am – The Local will be serving brunch upstairs & doors open for the holiday "Work/Shop" event located on both levels of The Local! 11am – The Holiday Work/Shop will feature craft-making stations opening at 11am + all handmade vendor sales, baked goods & more will continue until 4pm!
4pm – Santa will be making a stop at The Local for our 2nd Annual Dinner With Santa! FREE Kid's Crafts & Photos will be provided! Reservations Recommended! 5pm – Brett & The Little Big Show will be in the dining room helping us ring in the holiday season with some fun & festive live music! The fun will continue until 8pm!  To pre-register for your Work/Shop craft, please visit: https://bit.ly/TheLocalBarGrille and select an Pre-Order Work/Shop Craft at the bottom of the page! Crafts will be $35 online, $40 at the door!  To make your reservation for Dinner with Santa, please call us at 715-292-6181!
12/03/2022
Holiday Bazaar at the Presbyterian Church, 214 Vaughn Ave, 9am-12 noon.  Lots of great Christmas items here.  Raffle items: a Gnome, large lighthouse replica complete with furnishings, and 100 cash!(Need not be present to win.) Tickets are $2 or 6 for $10.  All proceeds go to the Brick and the New Day Advocacy Center.
12/03/2022
Northern Great Lakes Visitor Center Holiday Bazaar from 10 am to 2 pm.   Locally handcrafted items and sale in the gift shop!
12/03/2022
Ashland retail merchants host "Customer Appreciation Day." Shop local and get bargains all day!  Double points for Shop Small Win Big.
12/03/2022
Dribbling Dockers at the Ashland High School Field House, 10:30-11:30am. Dribbling Dockers registration is FREE for all K-2 students. this is an introductory basketball program.  The goal of this program is to teach fundamental skills of the game of basketball to youth in fun, organized and educational ways.  This class is taught by adult coaches and High School students-athletes from the Ashland High School boys' and girls' basketball programs under the direction of the Ashland Athletic Department.  Dates are November 26, December 3, 10 & 17.   Any questions email Ricky Bretting at rickybretting@gmail.com.  Looking forward to seeing all the kids in the gym!  Halftime performances are Tuesday January 3rd when the Boys Varsity takes on Northwestern (7pm start time) and Friday January 13th when the Girls Varsity takes on Cameron (7pm start time)
12/03/2022
The Monday Club will be selling Hot Chocolate and cookies at Menard Park, corner of Chapple and Main Street, from 3-6pm. To help you enjoy the parade!
12/03/2022
Mt Ashwabay Celebrating 75years!  Its the first event of many for our 75th anniversary season! Come up to Ashwabay and kick off the season! Super fun for all.  The Big Chill, 4-8pm..  Sugar Cookie decorating, Chili contest (Restaurants Only) Marshmallow & hotdog roasting, Cash bar, Christmas Tree lighting, (bring your ols ski passes to decorate the tree, and groomer rides/Nordic night Ski and snowshoeing (weather permitting)  Kids $5/Adults $10/Family $30.
12/03/2022
Garland City of the North Christmas Parade at 4:30pm on Historic Main Street.  Click here for a registration form.    Questions call 715-682-2500.
12/03/2022
Annual Butternut Christmas in the Village.   Downtown Business and Butternut Community Park will have vendors 10am-2pm. St. Paul's Youth Group will be caroling in town all day.  Punch card for Raffle – Pick up at Butternut Village Hall and return when done shopping by 2pm for a chance to win a basket filled with prizes.  Live music at the Butternut Community Park 3-7pm  For more information, call 715-769-3113.
12/03/2022
White Winter Winery presents A Dickens of a Christmas! Dinner from 6-9 pm. Jan Lee and Tom Mitchell, local actors, breathe life into their adaptation of Charles Dicken's, A Christmas Carol. Guests enjoy a five course Victorian-style meal paired with White Winter Winery mead, ciders, and spirits. A Dickens of a Christmas is a fundraiser for the Iron River Library. Seating limited. Tickets on sale now.  For more information visit whitewinter.com/events or call 715-372-5656. 68323A Lea St., Iron River, Wisconsin.
12/04/2022
Ashland Hockey- Mini Mite & Mite Jamboree. For more information, https://www.ashlandhockey.org/
12/04/2022
Crystalline Healing Bayfield "The Sacred Art of Play" Full Day Retreat, 8:30am-4:30pm at Potters Farm, 75900 Potters Rd
Washburn.  Come and create magic & joy in your life!!  When we're playing we feel light and limitless, curious, and excited, like we can do anything.  Bringing this natural state of JOY to our everyday life allows us to fully express ourselves and let go with passion and love, stepping into the rhythm of the universe, which is our birthright.  Retreat includes a Joy Meditation, Play,  In Your Bliss Vision Board, lite lunch, crystal work w/Rhodochrosite, journaling, & a Joy Journal.  Take home a vision board, Rhodochrosite Crystal, 52 week Journal, and lots of Joy!  $99/person class limit 12.  To sign up https://www.crystallinehealingbayfield.com/events or Call Beth 715-661-3113.
12/04/2022
100th Annual Community Christmas Concert, at 4pm at the Presbyterian Church in Ashland.  For more information, call 715-292-5193.
12/05/2022
Harbor View Event Center presents Jeremy McComb's Christmas, Cowboy- Style, a Celebration of a Traditional Western Christmas Tour. Show at 7 pm. Tickets $30.00. 130 Harbor View Drive, Washburn. 715-373-5492.