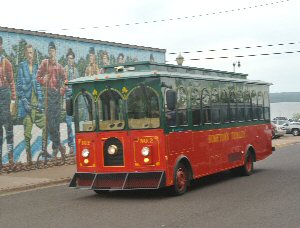 This event has ended
Date

July 17, 2023

Time

10:00 am - 3:00 pm
Ashland Mural Trolley Tours run June 2 – September 9th.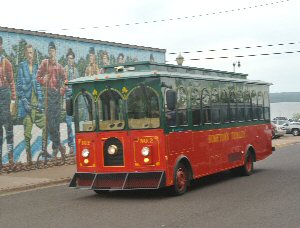 Friday's 10am and 1:30pm
Saturday's 10am and 1:30pm
Monday's 1:30pm
The 8-block Main Street Business District, listed on the National Register of Historic Places, is the background for a fascinating tour through Ashland's history as seen through the eyes of Ashland's mural artists Kelly Meredith and Susan Prentice Martinsen.
Click here to find out more on the Ashland Murals.
Trolley Tours are on a first-come, first-serve basis.
Pick-up Location: Parking lot of the Bay Area Civic Center, 320 4th Ave West.
The tour will be approximately 75 minutes long.
Tickets are purchased on the Trolley.
Cost: $5.00 per person.  Children under 6 are FREE!  (Cash only accepted, you pay on the Trolley.)
For more information on the Mural Trolley Tour please call the Ashland Chamber at 715-682-2500.
Sponsored by Ashland Area Chamber of Commerce and BART