Ashland, Chequamegon Bay for Year Round Fishing!!!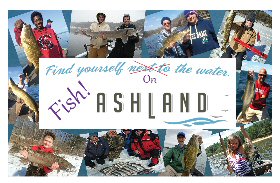 Check out the Chequamegon Bay FISHING Brochure. It has everything from fish species, places to fish, tying knots and much more. Stop by our office or order your brochure today! info@visitashland.com.
Click here for our Fishing Report
SUMMER means many different things to anglers in Ashland and Bayfield counties. Memorial Day means musky season and anglers travel to bigger inland lakes for the chance of hooking a fish that could be 50 inches long. Warmer temperatures send many fish to deeper water where vertical jigging can produce walleye, northern pike, bass and panfish. Towards evening and after dark these same fish migrate shallow and can be caught on topwater lures for some exciting action. Lake Superior in the summer means smallmouth bass in Chequamegon Bay. Bass fishermen hook a lot of northern pike on their bass tackle, and sometimes walleyes as well. Summer's warm temperatures send lake trout out to deeper, colder water where large boats with downriggers ply the depths.
FALL is arguably the best time to be out fishing. Cooler temperatures trigger all fish to bulk up for the coming winter. It also is spawning time for the Lake Superior salmon and brown trout. Stream-fishing the tributaries is a popular fall pastime with the opportunity to catch coho and chinook salmon, as well as rainbow, lake and brown trout. Shallow-water fishing picks up, inland and on Lake Superior, as the water cools and fish are more active during the day. Fall is trophy time for muskies on the inland waters, and northern pike on Chequamegon Bay. The fishing heats up all the way until the water freezes.
WINTER ice forms on inland lakes soon after Thanksgiving Day. Anglers can take their pick of excellent fishing for walleye, northern pike, or any of the three major panfish – perch, bluegill and crappie. Sometime after Christmas, Lake Superior freezes and anglers can fish for all the aforementioned fish as well as all species of trout. In late January, the ice usually extends into the Apostle Islands where diehard lake trout "bobbers" practice vertical jigging in water up to 250 feet deep for lake trout that regularly exceed 20 pounds. March starts the "late ice" period that has smelt entering the Bay in preparation for their spawning that occurs during ice-out. Big fish follow the smelt and all of the shallows can have great action.
SPRING finds anglers waiting for the general inland fishing opener on the first Saturday of May, though many have already been putting a bend in their fishing rods during the spring steelhead run in the South Shore's rivers, or in the ice-free waters of Lake Superior where the season doesn't close for coho salmon, walleye or northern pike. Ice-out is a highly anticipated event as the smelt run commences (check out this video) on Superior and humans, as well as game fish, catch and gorge on the silvery little fish. By the time the inland waters open for fishing, post-spawn walleyes are feeding heavily, as are northern pike. Bass and panfish are moving shallow in preparation for their late spring spawning run and fishing can be fast and furious. Inland streams such as the Namakagon and White turn into meccas for fly fishermen chasing native brown trout.
Fishing testimony from Jason Mitchell, host of Jason Mitchell Outdoors Television. "The Ashland area of northern Wisconsin is a beautiful destination with truly world-class angling opportunities. The smallmouth bass fishery in particular on Chequamegon Bay offers some of the best angling in the entire country for trophy fish. Besides trophy smallmouth bass, the area also offers great opportunities for musky, lake trout, brown trout, salmon and walleyes. Great fishing for big fish combined with a community that is clean, pleasant and refreshing."
Watch a video roundup of the 2014 fly-fishing and light tackle season on Chequamegon Bay created by Luke Kavajecz, guide with Anglers All in Ashland.
Read about the great fishing year-round in Chequamegon Bay!
Highly recommended reading: Don't miss this very well-written story by Tom Hazelton about a day spent fly-fishing out on Chequamegon Bay with Luke Kavajecz of Anglers All. Hazelton calls it "Unsalted."
Quick links on some great fishing information: