Fishing Report
Check out the Chequamegon Bay FISHING Brochure. It has everything from fish species, places to fish, tying knots and much more. Stop by our office or order your brochure today! info@visitashland.com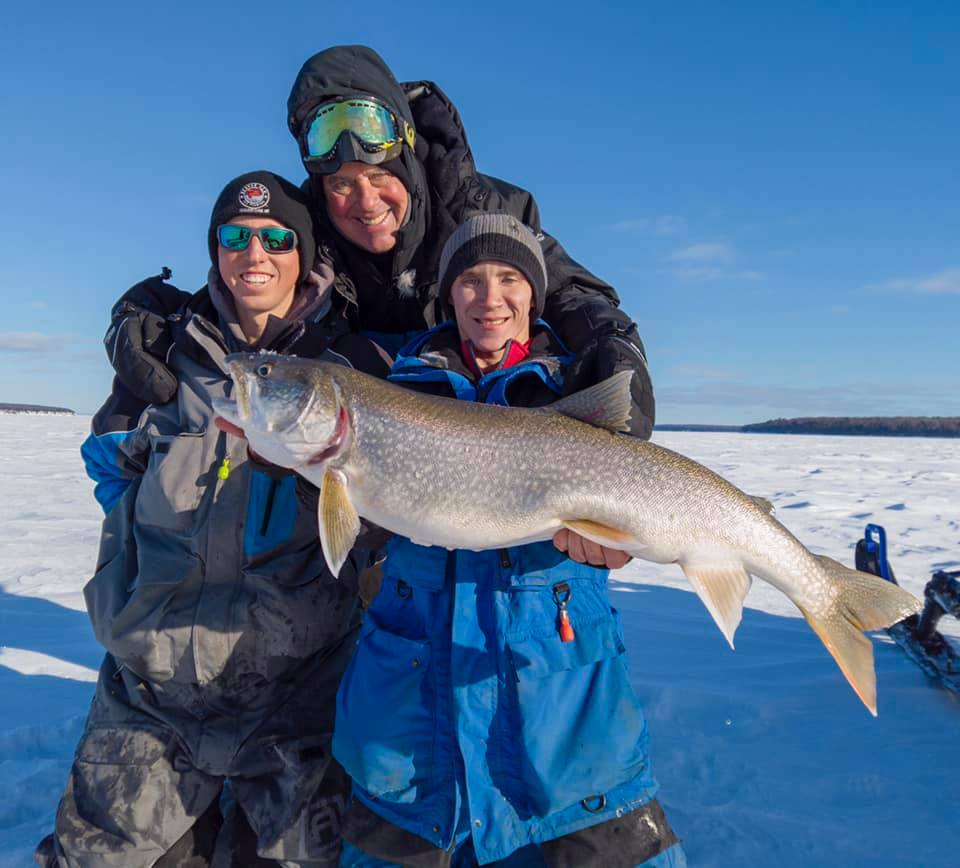 January 21, 2021
River Rock Inn & Bait Shop, 1200 West Lake Shore Drive, Ashland WI 54806. 715-682-3232. Scott Bretting from River Rock reports:  There are cold temps in the forecast the next few days which will make more ice. We have had rain this past week which knocked down the surface snow. At this time there is no snow on the ice on Chequamegon Bay. Fishing has been really great with a lot of activity. Anglers are catching a mixed bag of fish including a few Sturgeon, which is exciting. But in order to keep a Sturgeon it has to be 60 inches in size and you have to have a Sturgeon license. On the Ashland side of the Bay there is 8-10 inches of ice. Between the Oredock and the Light House there is 8-10 inches and they are catching White Fish, Browns and some Smelt. Stay clear of the Light House as there is a current there. At Second Landing, Anglers are catching Walleyes, White fish, Perch and nice size Northern's. Beware of a pressure crack North of the Break Wall. On the Washburn side of the Bay, there is 6plus inches of walkable ice off of Thompsons West End Park. Use caution at the The S-Curve/Bono Creek area near the mouth of Bono Creek where there is thinner ice with 4 inches at the approach and thicker ice with 6 inches south toward Ashland. they are catching White fish, Splake, Browns, Perch and Walley. The Washburn Coal Dock has very thin spots of ice. However, as we get more cold temperatures at night that will change fast and the ice will thicken. We are NOT recommending the Washburn Coal Dock until we get thicker ice there. Beyond Houghton Point, Onion River, Sioux River and Bodin's is open water!! Call us at River Rock for an update before venturing out! Anglers are ice fishing the smaller lakes and catching Pan Fish, some nice size Crappies, and Walleye. Always remember to bring your ice bar and check your way and always use good ice safety protocol. No Ice is Safe Ice!!!  Beware of the fresh snow covering the ice!
Anglers All, 2803 East Lake Shore Drive, Ashland WI 54806. 715-682-5754.
Carolyn at Anglers All reports: The Ashland side of the Bay has up to 9-inches of ice  in some places. Cold temps are in the forecast which will help ice conditions but please call ahead for an ice update. As you get toward the channel drop offs there is less ice. There are some people taking machines out, however, it is strongly advised to check your way with an ice bar before venturing out. Please use caution, especially on the Washburn side of the Bay where there is less ice with 2 to 6 inches. They are catching a mixed bag of fish on the Ashland side with reports of Herring, White Fish, Perch, Northerns, Splake, Browns, and Walleye. Anglers are going as far as Houghton Point. There are reports that Inland Lakes to the South and West of Ashland are in good shape right now. Always check your way and call ahead for an ice condition report.
THE 2021 WISCONSIN FISHING OPENER FAQ
CAN I STILL FISH?
Yes! Under Gov. Evers Safer at Home order, outdoor recreation is listed as an essential activity. As such, the fishing season opener will proceed as normal. We encourage anglers to use waterbodies close to home and in their community.
DO I NEED A LICENSE?
Wisconsin residents and nonresidents who are 16 years or older need a valid 2020-2021 fishing license to fish in any waters of the state. You can easily purchase a fishing license on the DNR Go Wild Web page.
WHERE CAN I FISH?
As of May 1, all State-owned launches and access points are open. Please check with individual parks regarding changes to shore fishing access and boat launches. Anglers are encouraged to use the DNR boat and shore fishing access tool to locate access points close to home and within their community. Anglers should contact their local municipalities for more information regarding localized closures and access changes to boat launches outside of state parks and properties.
WHAT CAN I FISH?
All regulations and season dates still apply. Check the 2020-2021 Guide to Wisconsin Hook & Line Fishing Regs for specific information about where you plan to fish.
WHAT KIND OF BAIT CAN I USE?
It depends on your fishing location and the species you are pursuing. Make sure to check the regulations for your location.
WHAT CAN I DO TO KEEP MYSELF/FAMILY SAFE?
Avoid crowded locations and set out with backup fishing locations in mind.
Give other anglers space and maintain 6 feet between yourself and members outside of your household. Measure your fishing rod and use it as a gauge.
Don't travel in the same boat or vehicle as another angler unless they reside in your household.
Wash and sanitize your hands especially after touching public surfaces such as handrails on boat launches or piers.
Don't share equipment with other anglers.
If you are feeling sick, stay home.
ARE YOU ENFORCING SOCIAL DISTANCING?
Parks staff and DNR wardens continue to monitor social distancing on state owned lands to support the Safer at Home order. We all must follow DHS & CDC guidelines and stay at least 6 feet apart from others outside of your household. This includes all travel from your vehicle to your fishing location and throughout the return trip. Safe distancing is your responsibility.
ARE THE BOAT LAUNCHES IN STATE PARKS NOW OPEN?
Yes, boat launches within open state parks are open. However, all state parks have updated hours of operation from 6am to 7pm and will be closed on Wednesdays. As such, anglers who want to fish within a state park on Wednesday may still do so that day but will be required to walk in if they are accessing water via the state park. Hour of operation restrictions will still apply. All restrooms, water fountains, buildings, and facilities are also closed on all state parks. Northern forests, flowages, and the Lower Wisconsin Riverway system are exempt from these changes and remain open from 6am to 11pm, 7 days a week.
I DON'T SEE ANY TRASH BARRELS AT PARKS/LAUNCHES?
The DNR urges visitors to do their part when visiting a park or boat launch. Most Wisconsin state parks, forests, launch sites and other day-use areas do not have garbage or recycling bins. When you visit a park or launch, you will need to take your garbage, pet waste, and recyclables home with you. We all play a vital role in taking care of our natural resources.
CAN I FISH IN WISCONSIN IF I AM A NON-RESIDENT?
All anglers must hold a valid 2020-2021 fishing license. Non-residents can easily purchase a license at DNR Go Wild web page. Make sure to check with your state's emergency orders and travel restrictions. Under Gov. Evers' Safer at Home order we encourage the public to fish within your local community
For a Fishing Report call
Anglers All, Located at 2803 E. Lake Shore Drive (U.S. Highway 2) in Ashland, is a full-service tackle and fly shop offering a huge selection of baits and tackle for year round fishing. For the most complete and up-to-date fishing report, just give them a call at 715/682-5754, and they will gladly keep you informed!
If you need some of our Specialized Great Lakes tackle please leave a message on our Facebook page or email me at lapenter@charter.net. I can ship!  Be safe and see you soon
River Rock Inn & Bait Shop, Located at 1200 W. Lake Shore Drive (U.S. Highway 2), in Ashland where you can stop in and see their wide variety of live bait, fishing tackle, gear, accessories, fresh and smoked fish from Lake Superior, local meat sticks, and microbrews, and much more. Call them at 715/682-3232 for the most current fishing report.
We want you safe when you are out exploring Chequamegon Bay in the winter.  Always check with a local Bait Shop, Anglers All or River Rock Inn and Bait shop for the best accesses onto the lake.  Please review this Ice Safety Brochure.
Fishing is always a thrilling adventure in the Ashland area!
Chequamegon Bay is famous for its world-class smallmouth bass fishing. The 12-mile-long bay's rock piles and breakwater structures make for perfect bass habitat.
Wisconsin residents and non-residents 16 years of age and up will need a fishing license to fish any waters in the state. An annual license costs $20.  Go online at http://dnr.wi.gov/topic/fishing/regulations/hookline.html for more details.
Residents born before Jan. 1, 1927, don't need a fishing license. They do need to carry proof of their age when fishing, however.
State residents who are members of the U.S. Armed Forces on active duty are entitled to obtain a free license when they go on furlough or leave.
New this year
Motor trolling is now legal on all inland waters with one hook, bait, or lure and – depending on location – with up to three hooks, baits, or lures, according to the DNR website.
Most inland lakes and rivers within the Ceded Territory (which includes Ashland County) have a daily bag limit of 3 walleye.
More on fishing in the Chequamegon Bay region
Entertaining viewing:
Check out this great episode of "John Gillespie's Waters & Woods" from Feb. 6 focusing on ice fishing near Ashland.  Josh Teigen of Josh Teigen's Guide Service in Iron River took the amiable TV host out on Chequamegon Bay where Gillespie said he had one of his "most enjoyable ice fishing trips of the year."
Don't miss this episode of "Larry Smith Outdoors" as the Berlin, Wis., guide and outdoorsman teams up with Tommy Hicks of Ashland and Beyond the Catch Guide Service to tackle Chequamegon Bay. Trout are on the menu along with whitefish when Larry and Tommy head out on the ice in "one of the prettiest parts of the state."
Highly recommended reading:
Check out this wonderful article by Andrew Ragas of NorthwoodsBass.com about the excellent smallmouth bass fishery right here in Chequamegon Bay!  Ragas spent a day out on the water with Ashland native Nate Baron of Up North Guide Service.
A very well-written story by Tom Hazelton about a day spent fly-fishing out on Chequamegon Bay with Luke Kavajecz of Anglers All.  Hazelton calls it "Unsalted."
Another great article on bass fishing Chequamegon Bay saltwater-style, this one by Duluth News Tribune outdoors writer Sam Cook. Read all about "Barefootin' the bay."
Read about Roger LaPenter's 2014 induction into the Fresh Water Fishing Hall of Fame.