Fishing Report
Check out the BRAND NEW Chequamegon Bay FISHING Brochure. It has everything from fish species, places to fish, tying knots and much more. Stop by our office or order your brochure today! info@visitashland.com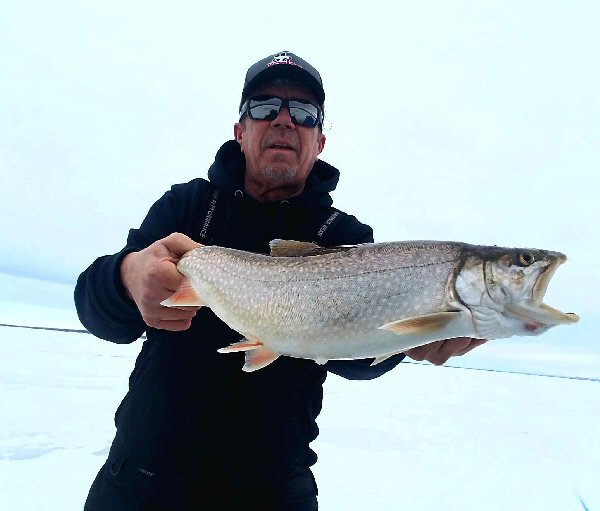 February 19, 2019
Anglers All, located at 2803 E. Lake Shore Drive (U.S. Highway 2) in Ashland, is a full-service tackle and fly shop offering a huge selection of baits and tackle for year-round fishing. For the most complete and up-to-date fishing report, just give them a call at 715/682-5754, and they will gladly keep you informed! Zach from Anglers All reports:  This week stayed much the same as last week. Reports are that there seems to be a little more slush on the Washburn side of the Bay and further out. Snow is in the forecast which can change the conditions on both sides of the Bay. Ice conditions change daily so make sure to check your way and check the weather conditions. Be aware that there is a lot of snow on the ice right now so Anglers are using snow machines but always know your surroundings. People are fishing all over the Bay now with ice conditions varying. The Ashland side of the Bay has up to 20 inches and the Washburn side of the Bay is reported to have up to 18 inches in spots. People are starting to fish the outside of the Bay but using a great deal of caution. Always check your way. The reports are saying a good mixed bag of fish are being caught! Browns, Splake, and White Fish are being caught all over the Bay right now. Call us at Anglers All and we will give you an update on what we are hearing about the ice condition. Be smart, call ahead. Know the area you are ice fishing. Bring your ice bar and safety equipment including flotation equipment at all times. There are people fishing the Inland Lakes in both Ashland and Bayfield County and they are catching fish!  Check for safe ice at all times!!! Be cautious.
River Rock Inn & Bait Shop, located at 1200 W. Lake Shore Drive (U.S. Highway 2), in Ashland where you can stop in and see their wide variety of live bait, fishing tackle, gear, accessories, fresh and smoked fish from Lake Superior, local meat sticks, and microbrews, and much more. Call them at 715/682-3232 for the most current fishing report. Scott Bretting reports: More snow coming will make it tougher to get around. Houghton Point has around 12 inches plus of ice. There is a pressure crack you have to cross just out of Washburn about 1/2 mile East of the Coal Dock where travel is not recommended with a wheeled vehicle.  Be aware that the South Channel between Long Island and Madeline Island is never safe ice! Be familiar with that area before venturing out. Anglers are fishing the Basswood and Hermit Island area and catching White Fish, Browns, Coho's, Splake Lake Trout and more. It is advised to either use a Fishing Guide or experienced Angler before going to these areas!. Anglers on the Ashland side of the Bay report 24 plus inches. By the light house there are Sturgeon being caught. However, you need to check your own ice as you go.  There are people taking machines out on the S-Curve and catching some nice Browns, Splake and Cohos.  Reports of 15 plus inches of ice in front of Washburn now. Anglers are fishing off the Sioux and Onion with some formation in that area. The ice road to Madeline Island is open for now to light vehicles. We have a lot of snow around the Islands and reports are saying there is a lot of slush. Keep in mind that slush will make the ice deteriorate faster so be aware. The Inlands have fish able ice and there have been reports of a good mix of fish being caught including some nice Walleyes and Northern's. A new feature on the Ashland side of the Bay is the "Ice Bridge" in front of 2nd Landing which is being maintained by a group of volunteers. The Ice Bridge allows you to cross the pressure crack with wheeled vehicles. Check out River Rock Inn and Bait Shop FB page or the Rod and Gun Club FB page. Always remember no ice is safe ice. The Neighborly Bar, Mellen, and the Rod and Gun Club all have ice fishing contests coming up.
The Ashland Area Chamber of Commerce, 1-800-284-9484, reports: Fishing is always a thrilling adventure in the Ashland area!
Chequamegon Bay is famous for its world-class smallmouth bass fishing. The 12-mile-long bay's rock piles and breakwater structures make for perfect bass habitat.
Wisconsin residents and non-residents 16 years of age and up will need a fishing license to fish any waters in the state. An annual license costs $20.  Go online at http://dnr.wi.gov/topic/fishing/regulations/hookline.html for more details.
Residents born before Jan. 1, 1927, don't need a fishing license. They do need to carry proof of their age when fishing, however.
State residents who are members of the U.S. Armed Forces on active duty are entitled to obtain a free license when they go on furlough or leave.
New this year
Motor trolling is now legal on all inland waters with one hook, bait, or lure and – depending on location – with up to three hooks, baits, or lures, according to the DNR website.
Most inland lakes and rivers within the Ceded Territory (which includes Ashland County) have a daily bag limit of 3 walleye.
ALSO – To see a real-time image of Chequamegon Bay, go to Northern State Bank's Bay Cam.
And be sure to check out River Rock Inn & Bait Shop's new, awesome Live Cam overlooking the area near the Xcel Energy "hot pond"!
More on fishing in the Chequamegon Bay region
Entertaining viewing:
Check out this great episode of "John Gillespie's Waters & Woods" from Feb. 6 focusing on ice fishing near Ashland.  Josh Teigen of Josh Teigen's Guide Service in Iron River took the amiable TV host out on Chequamegon Bay where Gillespie said he had one of his "most enjoyable ice fishing trips of the year."
Don't miss this episode of "Larry Smith Outdoors" as the Berlin, Wis., guide and outdoorsman teams up with Tommy Hicks of Ashland and Beyond the Catch Guide Service to tackle Chequamegon Bay. Trout are on the menu along with whitefish when Larry and Tommy head out on the ice in "one of the prettiest parts of the state."
Highly recommended reading:
Check out this wonderful article by Andrew Ragas of NorthwoodsBass.com about the excellent smallmouth bass fishery right here in Chequamegon Bay!  Ragas spent a day out on the water with Ashland native Nate Baron of Up North Guide Service.
A very well-written story by Tom Hazelton about a day spent fly-fishing out on Chequamegon Bay with Luke Kavajecz of Anglers All.  Hazelton calls it "Unsalted."
Another great article on bass fishing Chequamegon Bay saltwater-style, this one by Duluth News Tribune outdoors writer Sam Cook. Read all about "Barefootin' the bay."
Read about Roger LaPenter's 2014 induction into the Fresh Water Fishing Hall of Fame.