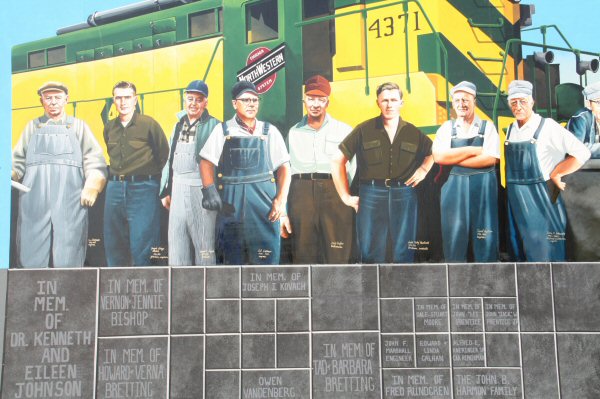 306 West 3rd St.
2013-2014
Located near the historic Soo Line Depot building, this mural represents both the Soo Line and Chicago and Northwestern rail lines that served Ashland. As with most towns, the railroad was Ashland's life blood that made a great deal of its commercial growth possible. All of the men are actual railroad workers.
Eric Thompson – 1927-1965, Engineer; Joseph George Kovach – 1946-1973, Fireman, engineer; Joseph C. Dufek – 1942-1980, Conductor; Gib Westman – 1940's -70's, Engineer; George Bayliss – Boilermaker, Lester "Butch" Revolinsli 1942-1973, Brakeman, Conductor; David Hagstrom 1916-1962, Engineer; Denise A. Schramke – 1940s-1980s, Railroad Switchman, Engineer; John "Jack" Prentice, Jr. – 1935-1970, Fireman.
John F. Zembrijcki – 1944-1958,Switchman; Donald A. Balmer- 1970-2012, Roadmaster;Francis C. Balmer – 1945-1985,  Roadmaster; Ira Toy – 1922-1957, Roadmaster;Thomas L. Ortman, Sr.-  1951-1989, Engineer – Soo Line, Julius Chingo – 1930-1970, Soo Line Oredock Worker; Howard Tardiff – 1946-1980, Soo Line; Railroad Engineer;  John Marshall, Crew;  Larry Noskoviak 1966-2006, Engineer; Robert Noskoviak 1944-1986, Roundhouse Clerk; Aaron E. Campbell – 34 years, Sooline  Conductor, passenger trainman; John L. Starosta – 1957-1995, Conductor; William E. Thornton 1913-1955, Engineer Soo Line; Michael M. Malyuk, Sr. 1947-1984, Track Welder, Soo Line; Leslie Albert Howard – 1920-1967, Fireman/Engineer; John E.  Kontny, Sr. – 1940's – 1970's, Switchman; Wayne "Butch" Zipperer- 1962-1990,  Switchman/Brakeman; George Podlesny – 33 years, 1940's-1970's,  Freight Conductor.