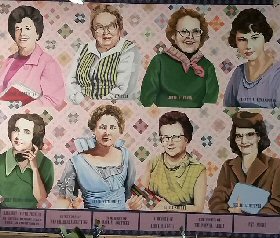 The corner of Vaughn Ave West and Main Street
Spring 2018
Bottom Row – Left to Right
The dedication of the Women's Mural took place on May 12, 2018.  Here is a video of that dedication.
Jane Bretting: Jane and her husband owned C.J. Bretting Manufacturing Co. After his death in 1904, Jane assumed presidency, overseeing hundreds of men who manufactured equipment for the sawmill, mining and shipping industries. Jane continued to raise her three sons during the 25 years that she ran the company, which still exists today.
Lorraine Kontny: Homemaker, manager of Campbell's Clothes and Things, worked at Army Navy.
Ann Yachinich: Owned and operated a farm in Mason and Johnson Flower Shop for 30 years. An avid bowler.
Theresa Ann Misuraco Sandor: The first in her family to graduate high school, she worked a year to earn the $10.00 fee to enter St.Joseph Nursing Academy where she became a committed nurse, buying the house next to the hospital so she could raise her children and be available for her patients. Probably delivered more babies than the doctors.
Maribeth Monroe: Works/Volunteers in Ashland Chamber and business community, Ashland Person of the Year 2015. Enthusiastic volunteer.
Nora Erickson: Homemaker, nurse's aide at Trinity Hospital. Past chief and life member of the Pythian Sisters. Member of Saron Lutheran church since its inception. Past president of the PTA.
Shirley Westman Grand: Married to Dr. Clifford Grand, worked as his office nurse until his death, her passion became working for the Blood Mobile, initiating its first stop in the area. She was also owner of Karen's Clothing and the Uniform Shop.
Alice McCarthy: Raised two sons on their own, ran family business called McCarthy Coal Company.
Marian Bishop Rostollan: Legal Secretary, Court Reporter, Pres. and leader of the Girl Scouts, Man. of Ashland County Building and Loan Ass., Active In social and civic affairs.
Helen O'Brien Nelson Bloss: Raised 5 children by herself on a bank teller's salary at Northern State Bank. Lifetime resident of Ashland.
Grace Weir Smiles: Traveled alone from Pennsylvania In 1910 to take a job at Northland College. She taught Speech, Drama, and Women's Phy. Ed. Dr. C.J. Smiles followed her from Pennsylvania and they married on the college campus. Grace died in 1921 during the birth of her third child.
Louise Shubat: Taught elementary school in Ashland area for over 40 years retiring from Ellis School. Graduate of Ashland County Normal and Superior State.
Nellies E. Heffner: Joined Northwest Community Action agency and received certification as Counselor of Alcoholism and Drugs. Served as Director of Aging for Ashland County, RSVP volunteer, established and served on many boards serving the elderly population.
Madeline H. Garnich: Founding member of Monday Club, member of American Assoc. of Univ. Women, active member in the Presbyterian/Congregational Church. Best Grandmother in the world!
Frances Wallin Sharron: Last charter member of the Auxiliary to VFW Post 690 holding many offices. Marching in many 4th of July parades and gave out flags. Volunteered for RSVP. Sand in church choir and played in the "Kitchen Band" at local nursing homes.
Caroline "Care" Sandin: Married to Dr. Howard V. Sandin, was a civic leader for 45 years. .Helped found the League of Woman Voters, served as president. .Elected to local school board, served 21 yrs. many as president. Elected to Ashland Co. board and served on Ashland City Council. .Ashland Woman of the Year 1979. Outstanding Citizen 1984. Appointed to Board of Regents of University of Wisconsin.
Top Row – Left to Right
Susan Prentice Martinsen: Ashland native, wife, mother, grandmother of 7, mural artist.
Evelyn Lutz Durocher: Art supervisor and art teacher at AHS. For 35 years, she influenced scores of students, instilling in them a love and appreciation for art in all.
Veryl Cate: One of the founders of the League of Women Voters. Early Woman City Council Member, Helped start the MMC Thrift Shop.
Irene Carlson: Homemaker, mother of three and grandmother of nine. Great cook and baker. Knitted hats and mittens for the children and first to respond with food when needed.
Mary Ann Stenman VanVlack Came from strong Finnish lineage. At age 14 worked as a mother's helper, then worked as a waitress, bartender and cook, (often2 jobs at once) at Rocket Café, Bay Theater, Monk's, Monk's Bowling Alley ,Moose Lodge and owner of Mary Ann's(Club 13).She is still feeding students at Northland College.
Helen K. Hansen: Charter member and worked 47 years as employee of Northern State Bank. First in family to graduate from college in 1923. Election poll worker, active member in church, homemaker and devoted mother.
Marian Lindstrom: Lived entire life In Ashland, Valedictorian of 1929 AHS, Legal Secretary for G. Arthur Johnson, worked at Northern State Bank. Lifelong member of Presbyterian/Congregational Church, 2nd mother to John and Jim (Lou) Sherfinski.
Marjorie Lockard: Lived in Ashland and Odanah her entire life .Graduate of AHS and Lawrence College, worked as a teacher, school principal, case worker, and owner manager of a general store in Odanah. She was part of the Civil Patrol in WWII, Salvation Army, and the Red Cross and served on the Ashland City Council. She was also was an accomplished poet.
Patricia Ortman: Married to Thomas L. Ortman, mother of 5 children, worked at Munsingwear and Northland College Library. Active in the local and State Democratic Party, as well as the League of Women Voters and several organizations and boards. She served on the Ashland School Board of Education for 21 distinguished years.
Astrid Berthiaume: Beloved AHS English teacher known for her infectious humor.
Ann Pero: Raised six children, renowned caterer and cook. Cooked at Court Manor for over 25 years. Pres. of B.P.O. Does, involved in church fund raisers and civic events. Golfer and bowler. Had infectious smile and never said no when asked for help. Worked side by side with Len at Menard Hotel, Totem Bowl, Elk's Club, Pero's Bar and Restaurant.
Joyce Prehn Clark: Co-founder of Ashland/Bayfield Co. League of Women Voters. Ashland School Board Member, Co-founder H & M Dance Club. Enjoyed golf, bridge and baking.
Clarice L. Lewandowski: Furrier and seamstress for Ashland Women, teacher at the Vocational school, one of the founding families of the Polish church "Holy Family". Assistant to Charles Maslowski in landscaping in Ashland.
Ruth A. Campbell: Lived in Ashland her whole life and was the first travel agent of Ashland owned by Dr. A.E. Sell, in the medical arts building.
Maude M. Campbell: Lived in Ashland between 1926- 1942 and was a depot agent at the Soo Line Depot.
Grace Sexton: Beloved "Popcorn Lady", Grace rescued an antique popcorn wagon on Madeline, worked to have it restored, after which she sold popcorn on the corner of Main St. and 4th Ave. She sold only the highest quality Quaker raised popcorn. Grace did everything with a warm smile.
The dedication of the Women's Mural took place on May 12, 2018.  Here is a video of that dedication.