Mural 12 1950's Snapshots Mural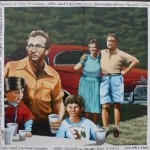 Parking Lot, 612 West Main St.
Summer 2007
If you're hungry, go on down to Buddies Burgers at 612 W. Main Street across from the Post Office, and enjoy a hamburger and an old-fashioned malt. Here you can step back in time as you take a look at the 1950s Snapshot Mural located on the outside of the east wall. Artists Kelly Meredith and Sue Martinsen were approached by the building owner to paint this mural. It was completed during the summer of 2007.
A 1950s hamburger/ice cream shop at that time was in the planning stage, and the artists were asked to design a mural that would depict the '50s era. The owner wanted to include in it women in 1950s bathing suits. Because the artists came up with quite a few photos to choose from, they decided to incorporate a number of them by suggesting snapshots from a photo album of the time. Thus, black was chosen as the background to suggest the typical background in a photo album.
Photographs were gathered from the local museum, and from catalogs. All the outfits and scenes are accurate representations of the 1950s. The artists used actual photos, but took the liberty to place different faces on them. They also decided to portray famous men and women of the '50s. Thus we see Perry Como on a motorcycle. The picnic scene, originally a Martinsen family picnic, shows Bing Crosby as one of the people in attendance. The girl hugging the kid with the Mouseketeer hat is Rosemary Clooney. Lana Turner can be seen as well in the swimsuit snapshot. George Reeves is there, too, the actor who played Superman on TV.
In the background of a couple of the snapshots is a Phillips 66 and a Texaco station. The former was owned by the Pratt family, and the latter was owned by the Johnson family. Both families were present at the dedication to honor their past.