Mural # 20 Cabbies and Stagecoach Mural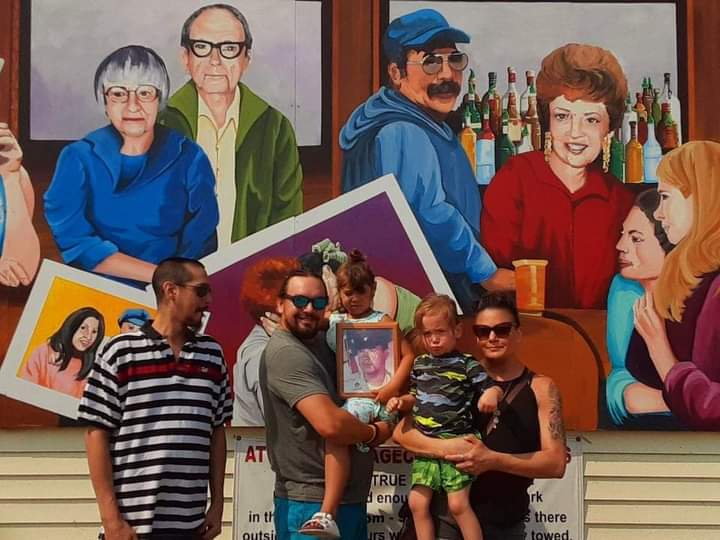 315 East Main St
2021
This mural tells the history of a small hole-in-the-wall 18 year old beer bar frequented by
locals and Northland College students alike from the early 1960s through its expansion into a modern 21 year old bar known as the Stagecoach Bar and Grill.
When the artist first made an appeal to the public for photos of their experiences in the bar she was met with "What! No one took photos of being in a bar in those days!". So the
artist began collecting stories instead. The result is a hybrid of actual people and painted images that tell the stories.
(1) (l to r) Nick Bystrom, NC
student, New Years revelers, pool shark, pin ball enthusiast, group of friends, one of the many historic ball room brawls, Ashland police officer who regularly broke up fights and checked IDs, a young man enjoying a beer, 1960s cabbies building with Carolyn Hart Rahman '67, Jim Byrnes bar
tender and bouncer and original Cabbies building.
(2) Young lady waiting for a prospect, Ida and Cap Meyers, beloved original owners of Cabbies who bequeathed $200,000 to Northland
College, (photo) of two unknown Northland Students, (photo) of two of the numerous unknown lovers who met at Cabbies, John (Spud) Maday, lifelong friend and co-owner of Stagecoach with Jack O'Brien, who after branching out into different endeavors, always maintained a seat at the bar. "Babe" Johnson, one time owner of Stagecoach, two unknown girls, Jack Obrien who became sole owner of Stagecoach during whose time the "Coach" became an Ashland Staple for more than 30 years. (Photo) of a girl enjoying her drink, and unknown man at the bar.
(3) Two young ladies dancing to the music, six members of the band "Badge". From top left Gary Jaskowiak, Rick Marshall, Gary King,
Bottom row, Jim Joanis, Puckey Nye,  and Dave Blatzkowski. Three mothers of band members nursing a beer so that their under-aged sons could play in the bar. (l to r) Mrs. King, Mrs. Blatzkowski, and Mrs. Nye, and two unidentified college students.