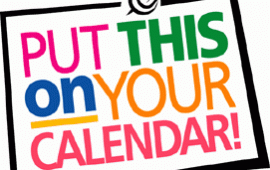 Here is a list of activities that are happening this week in the Chequamegon Bay Area:
Area Activities
November 23:
Turkey Trot 5k. Bring family, friends and Fido to the VFW building in Washburn, across from the Washburn Marina, for the 9am race. The registration starts at 8am-8:45am. Pre-registration available. The cost is $20 for adults and $10 for kids 17 years old or younger. This is a fundraiser for the Chequamegon Bay Area Community Fund, an affiliate of Duluth Superior Area Community Foundation. For more information, call 715-779-7021.
Our Lady of the Lake Free Will Dinner, 215 Lake Shore Drive E.  Serving 11am to 1pm.  Delivery service is available.  Call 715-682-7620.
November 24- December 3:
Country Blossoms Holiday Open House,64715 Gilles Rd,  Wreaths, Holiday Containers, kissing ball, Christmas Decor galore!! Come on out and start the holiday season!! Fridays 6-9 pm; Saturdays 9am -4pm; Sundays 9am-3pm; during the week 9am-4pm. For more information 715-746-2345.
November 24:
'Tis the season for giving. Don't miss FREE GIFT FRIDAY at Solstice Outdoors and Solstice Main Street.  Get a killer camp fire mug with a $50 purchase at Solstice Outdoors and Solstice clothing boutique get a free woven scarf with a $50 purchase while supplies last. Stores open at 8am. It's our way of saying thank you, for shopping local.
Bad River Lodge and Casino presents, " Black Friday Cash"  73370 US-2, Ashland from 5-11pm. You have a chance to win some cash! For more information call 715-682-7121 or visit www.badriver.com.
Community Dinner, held each Friday at 5:30 pm in the fellowship hall of St. Andrew's Episcopal Church, 620 3rd St. W., Ashland. A different area church provides the meal each week. For more information, call 715-682-5067.
November 25:
Bad River Lodge and Casino presents, "Annual Holiday Craft Fair" 73370 US-2, Ashland, from 8am-3pm. Free admission. Vendors to book a table and for more details call 715-682-7121 ext. 1231.
Shop Solstice Outdoors and Solstice on Main Street on Small Business Saturday and get a free $20 gift card with any $100 purchase.
Madeline Island Holiday Boutique at the Madeline Island Museum from 10am-4pm. Community members create an enticing variety of homemade and hand-crafted arts and goods for sale at this beloved traditional event held every year at the museum on the Saturday after Thanksgiving. This holiday event features local and regional arts and crafts and a soup lunch to benefit the island school parent/teacher association. What a wonderful way to kick off your holiday season! 888-475-3386, www.madelineisland.com.
Ashland's First Annual Tree Lighting Ceremony at 4:30pm at the Pearson Plaza Park.  Take an hour with friends and family and have some cookies, cider or hot chocolate and sing a holiday tune.
Bayfield's Holiday Tree Lighting Ceremony. Enjoy holiday treats and warm beverages while listening to traditional carols performed by the talented Rittenhouse Inn Singers at the historic Bayfield Lakeside Pavilion, from 4:30-6pm. Then, join in the procession as the crowd moves outside to serenade the holiday tree as it is ceremoniously lit for the season. For more information, call 715-779-3335 or visit www.bayfield.org.
November 25-26:
Santa will be at Walmart walking around from 12-4pm.
November 26:
Sunday Fat Bike Adventure Safari Rides at 1pm. NCCA sponsored weekly rides. Meeting locations will be announced via Facebook and email. Possible locations include: North Coast Coffee or Coco Cafe in Washburn or Big Water Coffee or The Fat Radish in Bayfield, etc. Bikes with 3.5″ tires or wider are highly recommended. No registration. Everyone welcome. Riders are asked to submit their email or contact information to John Murphy at murph007swat@gmail.com or call 715-209-8169 to receive weekly updates.
Santa will be at Country Blossoms Greenhouse from 1-3pm! 64715 Gilles Road, Ashland. For more information call 715-746-2345.
Month Long Activities November
Vaughn Library Activities.  Click the link to see all that wonderful things happening at the Library in November!
Washburn Cultural Center, 1 E. Bayfield St., Washburn, in November, "Beyond Words Project.". For more information, call 715-373-5591.
If you would like to receive the Ashland Chamber Newsletter click here to submit your email address.
« Back to event list