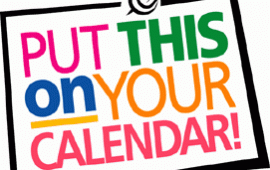 Here is a list of activities that are happening this week in the Chequamegon Bay Area:
Area Activities:
Now-31:
Washburn Cultural Center, 1 E. Bayfield St., Washburn, presents CBAC's Member Show "The Gathering." Opening reception on Oct. 10, from 5-7pm. For more information, call 715-373-5591 or visit www.cbayarts.org/the-gathering—fall-show.html.
October 14:
Casual Group Ride at 6pm June-October. Meet at Bay City Cycles, 412 W Main St. Bike needed, rentals are available at Bay City Cycles (please arrive early to do so). Helmets required. Sponsored by Bay City Cycles. Weekly updates on the Casual Group Ride Facebook group. For more information, call 715-682-2091 or visit www.baycitycycles.com.
Cheq Yes Monday Meetup! Held at Pasty's Bar, Washburn,  from 6-8pm. Monday Meet-ups are mostly social, monthly gatherings held the second Monday of every month. It's a chance to meet new people, check out new places, and connect with your community. Also, you will get the opportunity to tour the new AdventureUs location (right next to Patsy's). Amy Trimbo, owner of AdventureUs, was the winner of the 2019 Spark Competition. AdventureUs tour is around 6:20pm.
October 14-November 20:
Ballroom Dancing on Wednesdays at the Bayfield Pavilion, from 6:15-8pm. With Lloyd Turner and Rosie Dreesen. Full Series: Rec Center Members $23. Non-Members $27.  Walk In: $10. The class will consist of the basic step and a few variations of different ball room dances including Foxtrot, Rumba, Waltz, Tango, Cha Cha and East Coast Swing. For more information, call 715-779-5408.
October 15:
Small Business Marketing 101 hosted by the Ashland Area Development Corp.  5:30-7:30 pm.  This free business class will cover the basics of marketing your business on a budget! You can expect to come away with helpful hints, reliable resources, and a great chance to network with other business owners/hopefuls in our area. WHERE: AADC Conference Room in the Enterprise Center, located at 422 3rd Street West, Ashland COST: FREE! Open to all! Refreshments & take-home materials also provided.   PLEASE email Kate at ktaylor@ashlandareadevelopment with any questions!
Dine Out to Help Out- Participating restaurants across Ashland and Bayfield Counties are donating 10% of their dine in or take out sales (liquor not included) to The BRICK Ministries. Visit their Facebook page for the most up to date list of participating restaurants.
OLL Bingo! Doors open at 5:30pm. Bingo starts at 7pm. Prizes, Raffles and Big fun! Progressive Blackout!!  For more information, call 715-682-7620.
October 16:
Vaughn Public Library- Tween Book Club at 4pm. For more information, call 715-682-7060.
October 17:
Witches' Night Out on 3RD THURSDAY!! On historic Main Street of Ashland, from 4-8pm. Stop and shop at participating stores for fun treats and specials and a chance to register for the grand prize. Downtown Retail Businesses will be open until 8pm!! For more information, call 715-682-2500 or visit www.visitashland.com.
Ribbon Cutting and Grand Opening at Lil' Red, 5pm, 618 West Main Street. For more information, call 715-292-5185.
October 18:
Bremer Bank, 31 W. Bayfield Street, Washburn, will have a Security and Fraud Awareness Seminar at the Northern Great Lakes Visitor Center, County Hwy G and US Hwy 2 from 9am-11am. RSVP to Kay Tuttle, kmtuttle@bremer.com, 715-373-6380.
Ashland Homecoming Parade, 4:15pm on Main Street. For more information, contact Marie McFarlane at AHS.
Ashland High School Football Homecoming vs Rhinelander at 7pm.  715-68-7089.
October 19:
Madeline Island Fall Festival, La Pointe. Among the many family friendly events that take place during Fall Fest are pumpkin decorating, bird house kits, pumpkin pie eating contest, vendors, face painting, clowns, bicycle powered cider press, and much more. 9am-4pm Many island businesses will have specials.  For more information, call 715-747-2801, visit www.madelineisland.com.
Chequamegon Food Co-op and Ashland Parks and Recreation present "Cheeky Monkey Boo Bash" 9-11am – FREE! Come on down to the Ashland Bretting Center and play. Try gruelicious snacks, play spooktacular games, show off your stuff in the costume parade and pounce around in the bounce house! Everyone takes home special treats! For more information, call 715-682-8251.
Northland College Women's Volleyball vs Crown College 3pm  715-682-1243.
At the Sanborn Methodist Church…After Dinner you can have some  pasty's to buy. The dinner will be on October 19th  from 5pm—7pm.
The cost of the dinner is $7a person.  You will receive 1 pastie; cole slaw; Dessert and Beverage.You can purchase more pasties to take home for $4 each.
Copper Falls Candlelight Hike from 6-8:30pm. Self-guided candlelight walk through the forest on the Red Granite Falls Trail. State park sticker required. Flashlight optional. A great outdoor experience for all ages. For more information, call 715-274-2330.
October 19-20:
White River Ag presents the Hay Pyramid and A-Mazing Corn Maze, 11am to Dark at 58330 Nelson Rd, Mason. Along with the Corn Maze there is Hay Pyramid with 4 slides, Hay wagon Ride, corn box, bowling, slides, duck races, water races, corn pit, and indoor and outdoor seating! 3& Under: Free, Kids4-10 years: $6, 11& Up: $10. For more information call 715-765-4591.
« Back to event list