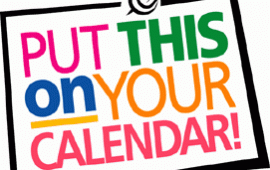 Here is a list of activities that are happening this week in the Chequamegon Bay Area:
Area Activities:
Now – February 28:
Stop into the EyeGlass Shoppe, for their Grand Opening Special, IN their NEW location, 200 Main Street West .  40% off Frames and 50% off lens options.  715-682-8181.
Celebrating 10 Years and lots of Love!  Good Thyme Restaurant – Thursday thru Saturday, 5-9pm. Message Body: We're celebrating 10 AMAZING YEARS in the Big Yellow House this month! Come enjoy our great new dishes including Whitefish Roulade, Calamari, Cajun Gulf Shrimp, and Andouille Sausage Alfredo. For VALENTINE'S DAY, we're adding new wines to our list, featuring delicious Aged Sirloin and Seafood Specials, and bringing back our Classic Wedge Salad! Don't forget about our Famous Friday Night Fish Fry. Call soon for Reservations: 715-373-5255. Good Thyme is located at 77180 Highway 13, Washburn. http://goodthyme.catering/restaurant/
February 17-18:
Chequamegon Theatre Association presents "Last Gas" auditions, 210 5th Ave E, Ashland. For more information, call 715-682-8012 or visit www.ctatheatre.org.
February 18 & 20:
Spark presented by UW-Superior and CEED.  Do you have a great business idea?  You can win $5,000 and a business start up package to make your idea a reality.  Learn more about this at the informational sessions Feb. 18 at 5:30-7pm at WITC-Ashland and Feb.20 5:30-7pm at the Washburn Library.  For more information go to www.cheqyes.com or call 715-682-9141 ex 118.
February 19:
Ignite Fitness & JET Travel 2020 Trip!  Join us for a night of tropical excitement and learn about what is planned for 2020! We had such an amazing time in 2019 and we would love for more to join us next year! Meet at Ignite at 6pm!  Everyone is welcome.  320 Main Street West.
Ashland Science On Tap presents "Michelle Morency and Karlee Prince" with Lake Superior and the Younger Dryas Cold Period: Observing Our Last Ice Age Through Cosmogenic Nuclides, 808 W. Main St., at 6:30pm. For more information, call 715-682-4200 or visit www.ashlandscience.org.
OLL Bingo! Doors open at 5:30pm. Bingo starts at 7pm. Prizes, Raffles and Big fun! Progressive Blackout!!  For more information, call 715-682-7620.
"Olson Bros. Family Stories" at Harbor View Event Center (old Steak Pit, 130 W Harbor View Dr) at 7 pm.  A visual and verbal view of the 132 years of Olson involvement in the lumber-dray and building material business in Washburn, as part of the 8th Annual Tony Wok Winter History Festival by Washburn Heritage Association.  Tickets $5 at the door and include refreshments by CoCo's.  715-209-7279.
Northland College presents: On the River with Henry Thoreau: Liquid Thoughts for Hot Times at 7pm at the Sigurd Olson Environmental Institute.  715-682-1223
February 20:
Open Skating, at the Bay Area Civic Center, 320 W. 4th Ave., Wednesdays from 7-9pm. Open to the public for a minimal fee. For more information, call 715-682-2221.
Aqua Zumba Pool Party at the Bayfield Recreation Center from 6-7pm. With Lynda Warren. Walk In: $10/class. Program Punch Card: $79/10 Program Walk-Ins. The Zumba version of a pool party, Aqua Zumba is a safe, challenging, water-based workout that's cardio-conditioning, body-toning, and most of all, a ton of fun. For more information, call 715-779-5408 or visit https://www.recreationandfitnessresources.org/bayfield-rec-center.html.
February 21:
3rd Thursday! You know, Thirsty Thursday, Thankful Thursday, Throwback Thursday, and now 3rd THURSDAY!!!!!! Downtown Retail Business will be open until 8pm on the 3rd THURSDAY of every month, with specials. Bargains!!   Fun!! An evening of shopping! For more information call 715-682-2500 or visit www.visitashland.com.
Wellness Talks with Jen Torborg of Orthopedic & Spine Therapy at the Bayfield Rec Center from 9-10am. For more information, call 715-685-9656 or email jtorborg@ostpt.com.
Chequamegon Food Co-op presents, "Movie Night: Food Patriots" from 6-7:30pm. Have you ever wondered if small changes can make a big difference? Join us for the story of the Spitz family and their journey toward a new way of consuming food. Food Patriots tells the story of Jeff Spitz and Jennifer Amdur Spitz, whose lives changed when their son became sick after eating chicken contaminated with a superbug that antibiotics couldn't kick. They made seemingly small changes to their diet and saw big changed to their lives. Watch as the family learns more about food sources, raises outlaw chickens in their backyard, and meet other people along the way who are trying to change the way we buy and eat food. Free organic popcorn and hot chocolate! Free. No reservations necessary. For more information, call 715-682-8251.
Thursday Trivia at HPL bar, 116 14th Ave E.   This week's theme is Star Wars.  Trivia starts at 7pm.  608-345-3966.
February 21-23:
Northland College presents Backwoods Skiing Workshop.  This 2-part workshop prepares you to explore these wonders on skis.  Part 1: Feb 21, 4:30-5:30pm, focusing on equipment, safety and backwoods locations (Free and open to the public, no registration required).  Part 2: Feb 23, 9am-4pm A guided ski journey to a special backwoods location.  Pre-registration required. $10 fee covers skis and transportation.  Register at 715-682-1223
February 22:
Kortelopet Classic and Skate 29K Ski Race. Attracts 3,000 skiers who want the challenge and excitement of a shorter-distance race. Spans 29 kilometers from the OO Trailhead to Downtown Hayward. To register, visit www.birkie.com/ski/events/kortelopet/.
Bay Area Film Society is showing the film, "Science Fair" at the Bay Theatre at 5pm & 7:30pm. For more information, visit www.bayareafilmsociety.org/upcoming-events/.
February 22-23:
Annual Father-Daughter Dinner Dance. Calling all fathers and daughters, young and old! Hosted by the Lake Superior Elementary Parent Teacher Organization, from 6-9:30pm at the AmericInn Conference Center in Ashland. Tickets are $25.  For more information, call Tricia Lund at 715-682-7085.
February 23:
Neighborly Bar 2018 Ice Fishing Tourney. Cash prizes for 7 categories, including lake trout, walleye, northern, perch, and other trout and salmon. Along with crowning of "King of the Bay" to whoever catches the largest fish. Entry fee includes contest, food, and prizes. All Wisconsin rules apply.  All fish must be registered by 4:45pm on February 24. Event features RAFFLES—MUSIC—FOOD—DRINK SPECIALS. For more information, call the Neighborly at 715-682-9908.
Dribbling Dockers starts on Saturday mornings, 9-10am at Lake Superior Elementary. Dribbling Dockers is FREE for all K-1 students. The goal of this program is to teach fundamental skills of the game of basketball to youth in fun, organized and educational ways.  This class is taught by adult coaches and High School students- athletes from the Ashland High School boys and girls basketball programs under the direction of the Ashland Athletic Department.  Any questions email Ricky Bretting at rickybretting@gmail.com.  Looking forward to seeing all the kids in the gym!
Mt Ashwabay MADski Youth Program. 10am-12pm This long-running running program is for youth ages 6-14 years. Volunteer instructors work closely with students and parents to instill a love of skiing and snowboarding.  At the heart of the program is family involvement. Parents are encouraged to volunteer as coaches, and in doing so learn skills they can carry forward and use after the Program. This is a perennial family favorite!  715-779-3227.
Ashland Ice Racing – Come on out for our King Of The Bay special event starting at 11:30am. First place in points is guaranteed $500 to win with a first-place feature finish bonus! It's a one-day race that's bound to be full of entertainment for all. Oh, and don't forget those ladies as we are having a powder puff race and the winner takes the trophy! We will be racing our normal Sunday on the 24th as well so drivers are more than welcome to grab a hotel and join us on Sunday. For more information visit Ashland Ice Racing Facebook Page.
North Coast Cycling Association Weekly Winter Fat Bike Rides, every Saturday afternoon at 1pm. Location is TBA. Like us on Facebook to obtain current information. Must include bikes with tires 3.5″ or wider and studs are recommended. No registration needed. Visitors are welcome. NCCA has extra fat bikes to borrow for free for first time users or for a donation for repeat users. Riders are asked to submit their contact information to John Murphy at murph007swat@gmail.com or call 715-209-8169.
Bargain Hut Gives Back Sale, 420 Chapple Ave., from 9am-1pm. Items will be for the community to take at no charge. This is open to anyone and everyone within the area. For more information, call 715-682-8522.
Ashland Bayfield County Sportsmen 17th Annual Kids' Ice Fishing Contest, Kreher Park, Ashland, from 11am-2pm. Free to all kids ages 5-15. Two age classes: 5-9 and 10-15. First 300 kids get prizes. Bring your own poles and tackle. Register at pavilion before going on the ice.  For more information, call 715-373-2088.
Mt Ashwabay Youth Night! 3-8pm. $10 lift tickets, free rentals for ​12th grade and under.  Catch the BART in Ashland or Washburn and join us for youth nights!​  Shuttle Times​: Ashland Civic Center – 2:30pm; Washburn High School – 2:45pm; Return shuttle leaves the hill at 8pm. Reserve Your Spot: Riders must call BART to reserve their spot on the bus.  ​No instruction available on Youth Nights. Youth Night lift tickets begin at 3 p.m. and do not include a full-day pass.  715-779-3227.
Messiah Lutheran Church, 231 W 5th St, Washburn, will hold their annual Lutefisk and Meatball Dinner from 5-6:30pm. The church is handicapped accessible with a lift to the dining room. Carry-outs are available.  For more information call 715-373-0180.
Bad River Casino presents, "Annual Karaoke Contest Preliminaries". Registration starts at 7:30pm. Preliminaries at 9pm. 1st place: $1,500. 2nd place: $1,000. 3rd place: $750. Grand Finale is March 9th. Please call Colleen for your music request before the contest starts at 715-682-7121 ext. 1231.
Ashland Chamber Music Society presents "Twin Ports Choral Project" at Our Lady of the Lake Catholic Church, at 7:30pm. For more information, call 715-682-5795, or visit www.ashlandchambermusic.org.
Claus Kraetke Memorial Ice Fishing Jamboree at Donner's Bay Resort on the Turtle Flambeau Flowage, 2974 Hiawatha Rd., Butternut, from 7am-4pm. For more information, call 715-476-2555.
American Birkebeiner, on the 50-kilometer Birkie Trail from Cable to Hayward, for skaters, and 55K for classic skiers. North America's largest cross-country ski marathon. For more information, call 800-872-2753 or visit www.birkie.com
February 23-24:
February 24:
Mellen Rod and Gun Club Fishing Contest on Lake Galilee, from 8am-3pm. Prize drawings are from 12-3pm. Great prizes! Sponsored by Mellen Rod & Gun Club. For more information, call 715-274-2136.
Mt. Ashwabay 17th Annual King & Queen of the Mountain, 32525 Ski Hill Road, Bayfield, from 9am-4:30pm. For more information, call 715-779-3227 or www.mtashwabay.com.
Sundays at Maslowski Beach on Chequamegon Bay, Car Ice-Races starting at 11am. Weather and ice conditions can change, please check Ashland Ice-Racing Facebook page here for more information and updates. Race results/awards at Patsy's Bar in Washburn at 4pm.
Ashland Ice Racing KIDS MEET THE DRIVERS! So, grab your youngsters and come on out for a fun filled day of car racing on Chequamegon Bay! Flag drops at 11:30am! Maslowski Beach.  For more information, check them out on Facebook 
Mt Ashwabay NASTAR Alpine Ski & Snowboard Racing.  NASTAR (National Standard Racing) is a great opportunity for participants of all ages to race a giant slalom course and compare results to others in their age category across the nation. Participants ages 12 and under race free thanks to generous support from the Rychel family. NASTAR is open to Alpine Skiers, Boarders, and Telemark Skiers. We always appreciate assistance setting up and tearing down the course, so arrive a little early or plan to stick around afterwards if you have time. Racing NASTAR is a great opportunity to have fun in a non-competitive atmosphere. Accumulate points all year, because awards will be given at the end of the race season to the top three racers in each age group. Bring a friend and challenge each other for the fastest time every Sunday all season long at Mt. Ashwabay.
February 26:
Memorial Medical Center presents, " Moonlight Ski & Snowshoe" from 5-7pm. At the Memorial Medical Center Hospital Ski Trail Head. Everyone is invited!! Grab your cross country skis and snowshoes and come out for an evening of fun! Free smores and hot chocolate, music and games, free tips and lessons from the pros, give-aways and prizes! For more information, call Lisa at 715-685-5535.
Month Long Activities February
Vaughn Library Activities. Click the link to see all that wonderful things happening at the Library in February!  715-682-7060.
Northern Great Lake Visitor Center – The Northern Great Lakes Visitor Center helps people connect with the historic, cultural, and natural resources of the Northern Great Lakes Region through customer-based information, services, and educational programs.  715-685-9983.
Open Skating, at the Bay Area Civic Center, 320 W. 4th Ave., in February open Skating will be on Wednesdays from 7-9pm. Open to the public for a minimal fee. For more information, call 715-682-2221
North Coast Cycling Association Weekly Winter Fat Bike Rides, every Saturday afternoon at 1pm. Location is TBA. Like us on Facebook to obtain current information. Must include bikes with tires 3.5″ or wider and studs are recommended. No registration needed. Visitors are welcome. NCCA has extra fat bikes to borrow for free for first time users or for a donation for repeat users. Riders are asked to submit their contact information to John Murphy at murph007swat@gmail.com or call 715-209-8169.
Now – February 28:  Bay City Cycles Winter Tune Up Specials! Basic Tune-Up: $50. Deluxe Tune-Up: $65. Super Tune-Up: $70. For more information, call 715-682-2091
« Back to event list