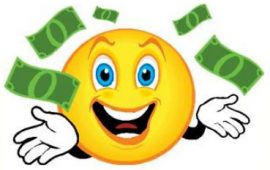 Tickets are on sale now for the Christmas Cash Raffle.  
Tickets are $10.00 and you can win every day in the month of December. If you win, your name gets put back in and you can win AGAIN! Prizes are as follows: Monday – Friday, $50.00; Saturdays, $75.00; and Sundays, $100.00. Special drawings will be held on Christmas Parade Day – December 7, for $125.00; Christmas Day, 2/$500.00; and New Year's Eve Day, 2/$175.00. Winners will be posted on this page, on the Chamber's Facebook page, on the Superior Choice Credit Union marquee and announced on the radio at WBSZ, WJJH and WNXR. Good luck!  stop in, call or order your tickets online today!
Proceeds from the Christmas Cash Raffle go to pay the Christmas Parade winners.
Here is a list of participating Chamber Member Businesses.
2019 Winners
December 1: Charlie Singler – $100
December 2: Lisa Gervais – $50
December 3: Annette Brown – $50
December 4: Carl Hambach – $50
December 5: Bob Polencheck – $50
December 6:  Chequamegon Humane Association _-$50
December 7: Lori Walter – $125
December 8: Tina Jenicek – $100
December 9: Jim Warren – $50
December 10: Kelly Schmock- $50
December 11: Sharon Campbell – $50
December 12: Michael Graham – $50
December 13: Donna Koosmann -$50
December 14: Bruce Griffiths – $75
December 15: Jody Homan – $100
December 16: Melissa Gessert – $50
December 17: Jackson Lulich – $50
December 18: Kris Oliphant – $50
December 19: Joni Guenther – $50
December 20: Jean and Crunch Ronning – $50
December 21: Phil Westlund – $75
December 22: Lisa Schultz – $100
December 23:  Superior Floral & Gift – $50
December 24: Patty Bressette – $50
December 25: Jennifer Augustine – $500
December 25: Faith in Action -$500
December 26: Amy Bochler – $50
December 27: Kris Oliphant – $50
December 28:  Derek Erickson – $75
December 29: Terri/Connie -$100
December 30: Bill Kurilla – $50
December 31: Vince Ament – $175
December 31: Faith in Action – $175
« Back to event list