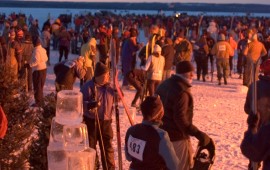 Come and have some fun with us!
Book Across the Bay is the upper Midwest's most unique winter event, open to skiers and snowshoers of all ages and ability levels. The 10-kilometer course, which is groomed for both classic-style and skate skiing, starts in Ashland and ends in Washburn, and follows a route not on land, but over the frozen surface of Lake Superior, the world's largest freshwater lake.  The event is held at night, and the course is lit by the stars above and up to 1,000 candles in ice luminaries that line the entire route.
For more information go to www.batb.org
Weekend activities during Book Across the Bay will include:
February 14:
Brewers Tent: New this year!  Horseshoes & Hand Grenades in concert at the Thompson's West End Park tent in Washburn. Doors open at 5pm, and music starts at 7pm.  $15 per person with BATB registration, or $20 for the concert only(without a BATB Race Registration). Tickets are available at the door and online.
February 15:
Walk-in registration and bib pickup will be at Thompson's West End Park in Washburn from 11am – 5pm.
Shuttle buses will run from 1-5pm on Saturday from Washburn to the start area at Maslowski Beach.
Book Across the Bay Expo on the Ashland side of the bay, 11am – Race Start.  The Expo hosts local businesses & vendors. Free admission and family friendly!  Expo vendors are: CANSKI ski waxing, Washburn Hardware & REID Fatbike demos, Hand-crafted snowshoes, Marengo Valley School, selling snacks and beverages, Bemused Design & Photography, GLFWIC AirBoat, Northland College Vocal Choir performing, Apostle Island National Lakeshore 50th Anniversary.
Kids Book It  Fun Race, a FREE race open to all kids ages 12 and under. Registration and bib pick up will be at Solstice Outdoors starting at 10am. Race starts at 11am for ages 8-12 and 11:30am for ages 8 and under. All participants will receive a  medal, hot chocolate, and cookies! solsticeoutdoorstore.com or call 715/682-3590.
Chequamegon Kite Fest!  Ashland Parks & Rec wants you to Come Fly a Kite with us (Yes the same day as the Book Across the Bay) from 1-4pm on Lake Superior at Maslowski Beach. More information call 715-682-7059.
Race start 6pm!
Saturday night band in the finishline tent at Thompson's West End Park in Washburn: Champagne Glitter Train (the band members from the last several years of BATB after party band, but with a brand new name!!).  Free for race participants. $5 donation suggested if you are not a participant or have a volunteer pin.
February 15 & 16:
Spirit of the North Gift Shop, inside the Northern Great Lakes Visitor Center will be having 20% off all clothing Saturday February 15 & Sunday, February 16th.
February 16.
North Coast Cycling Association's Bike Across the Bay, The 10K course for Bike Across the Bay is a combination of hard-packed drifted snow, crusty snow, and some ice. Fat bikes are recommended. Helmets are required. Race start time is 12noon from Washburn Shore. Day of event registration will be at the Harbor View Event Center (formerly Steak Pit) from 10-11:30am. New this year- professional timing. Awards and after party at 1pm at the Harbor View Event Center. 715/209-8169 with any questions.  northcoastcycling.com
Many Downtown Ashland Stores will be open on Sunday 11am-3pm.
Following Bike Across the Bay, Chequamegon Bay People's Orchestra will bring their eclectic mix of old school tunes, current faves & original music to Harbor View Event Center, Washburn, for this FREE public performance from 1-4 pm. This all ages event is sure to keep you movin' and groovin' all afternoon!  This concert made possible by a generous donation from Bruce Terry of American Family Insurance in Washburn to the Bike Across the Bay event.
« Back to event list