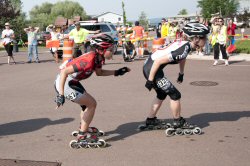 A fun race for everyone on Madeline Island.
June 18, 2022
If gliding along smooth pavement through scenic woodlands offering breathtaking views of Lake Superior sounds like your idea of skating heaven, the Apostle Islands Inline is the perfect event for you.  Did you know the race takes place on an island?  Madeline Island!
The Marathon: 3 laps on the 8.7-mile course
The Apostle Islands Inline Races will be held on an 8.7-mile looped course of town roads and a county highway. The marathon will consist of three laps of this course. The course offers a scenic mix of flats, curves and straightaways. This one-of-a-kind course offers extraordinary glimpses of the beautiful Lake Superior shoreline and the majority of the race takes place on new pavement. The course offers two hairpin turns, various curves and flats. Skaters of all skill levels will be able to participate in this event.
ALMT (A Little More Than) Half-Marathon: 2 laps
The Apostle Islands Inline also offers the ALMT Half-Marathon (17.4 miles). The ALMT Half-Marathon will be two laps of the 8.7-mile course. ALMT Half-Marathon registrants will not be allowed to drop to the Fun Skate after completing one lap of the course. ALMT Half-Marathon registrants who stop after one lap will not be included in the ALMT results.
The Mad Fun Skate: 1 lap
The Mad Fun Skate will take place after the marathon & half-marathoners start. The Fun Skate will consist of one lap of the 8.7-mile course. The Mad Skate is open to skaters 8 years of age and older.
For more information, go to www.apostleislandsinline.com.
« Back to event list