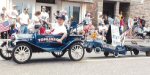 4th of July 50/50 Raffle to help support the Ashland 4th of July Fireworks. The drawing will be held on July 4th, at 1pm, at the Neighborly Bar. The winner of the 50/50 raffle will receive half the pot. Tickets are at the Ashland Chamber and the Neighborly Bar $5 each or 6 for $20. Need not be present to win. 715/292-7264.
4th of July week activities:
July 4:  Ashland Independence Day Parade & Celebration is held on the 4th of July.
4th of July Sunrise Salute at 6am.
Brat/hot dog stand on the Courthouse lawn from the Lions Club and in front of Moores on Main, 10am-1pm
4th of July Cookout at the Chequamegon Food Co-op!  10am-1pm, in the Co-op Parking Lot.  Serving up some seriously tasty $3 vegan and meat brats in the parking lot during Ashland's 4th of July Parade, along with cold drinks and goodies. Plus, we'll have FREE Cheeky Monkey snacks for kids 12 and under!   www.chequamegonfoodcoop.com  715-682-8251
Parade starts at 11am, downtown Ashland.  Click here for Parade Form
Great Lakes Insurance Block Party with Car Show on the south corner of Main Street and 2nd Ave 10:30am-12pm.  Car Show, music and food.
Ashland Historical Society Museum Cemetery Walk from 2-4pm at St. Agnes Cemetery. In case of rain-at Our Lady of the Lake Social Hall.
Upper 13 Baseball League at Pufall Field in Hodgkins Park,  Merchants vs Washburn at 2pm.
Chequamegon Bay Concert Band play at Memorial Park at 8pm; In case of rain, concerts will be moved to Northland College, Alvord Theatre.
Fire Run at 9:30pm,
Fireworks at approx. 10pm, following the Fire Run, overlooking Chequamegon Bay.   Fireworks will be shot off of the C. Reiss Coal Dock across from the Plaza Park.
Area Fourth of July Celebrations:
Glidden: Parade, Merry-Go-Round & Kiddie Car Rides, Games, Food & Fireworks  at dusk sponsored by the VFW Auxiliary.  Historical Museum Open House.  For more information, call 715-264-5444, or visit

www.gliddenwi.org

.
Madeline Island: 10:30am Parade.  Following the parade there will be a ceremony and music on the lawn of the MI Museum. The Annual Music on the Green Festival.  Fireworks 10pm.  For more information, call 715-747-2801, or visit www.madelineisland.com.
Mellen:  5-mile/2-mile Bell Ringer Run at 8 am & 9:15am, Kiddie Parade  at 9am, Pie Social 10am, Money Scramble at the Dr. Gilman Park; Parade at 12 noon with fire truck ride for children,  Hula Hoop and Pie Eating Contest at former Ranger Station at 1:30pm, Baseball game Mellen Rockies vs. Iron City Minors at 2pm,  Fireworks display at dusk from water tank hill.  For more information, call 715-274-2330, or visit www.mellenwi.com.
July 7:
Bay Area Car Club Show, 9am-3pm at Bayview Park in Ashland. For more information, call  715-779-5425 or 715-682-5378.
Fourth of July Picnic at Butternut American Legion Hall from 2pm-6pm. For more information, call 715-769-3951, or email butternutwi@centurytel.net. Reduced museum admission throughout the day.
Clam Lake fireworks.  www.clamlakewi.com
« Back to event list