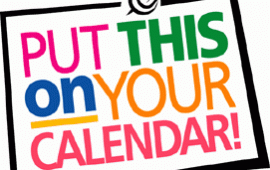 Here is a list of activities that are happening this week in the Chequamegon Bay Area:
Area Activities:
Area Activities:
November 15-December 15:
The Annual Big Bundle Up Campaign Fundraiser, which benefits children being served by the Bad River Zhwenidig Domestic Abuse Program, Bad River Women's Shelter and the Ashland New Day Shelter. Donate warm, winter children's brand-new mittens, hats, scarves, boots, snow pants, jackets to the Bad River Lodge and Casino and receive rewards play in return. From 8am-11pm. All items must be brand new with the tag still on them. All donations will go to local shelters. For more information, call 715-682-7121, ext. 1231. www.badriver.com
November 19:
Science Monday at Northland College Science Building, from 3:45-5pm. For youth in grades 3-8. To register call Ashland Parks & Rec at 715-682-7059.
November 20:
Our Lady of the Lake Catholic School Veterans Day Program. The students will have a performance at 2pm in the Social Hall. For more information call 715-682-7620.
Ashland High School Girls Basketball vs. Superior at 7:15pm.  715-682-7089.
November 21:
Legendary Waters Resort and Casino presents, "Karaoke Contest" from 8pm-midnight. Featuring DJ Ray and DJ Bernie. Must be 21 or older. Cash Bar. For more information, call 800-226-8478.
November 22:
Drumstick Dash! Join Ignite Fitness Studio for a family-friendly morning of running, walking, and giving thanks! Get up and get moving before all the food and football on Thanksgiving Day. Stick around after the run for morning refreshments and early access to Black Friday shopping deals until 10am. Then it is time to go home and make that turkey dinner! We will start our informal 5k fun run at 9am with check-in beginning at 8:30am. This event is FREE but we are asking for donations of canned food for The Brick. Our route will start and end at Ignite Fitness and be both on the road and paved trail. Strollers will be able to traverse the course, so bring everyone! There will be a marked turnaround for a 1-mile option, too. Please note that this run follows a "fun run" format, which means that the route will be marked, but roads will not be closed. All runners, walkers and participants will be required to follow all pedestrian traffic laws for safety. Please note that there is not a Chequamegon Bay Area Community Fund Turkey Trot this year in Washburn, but we sure hope it returns in 2019! Until then we are offering this option! For more information, call 715-682-9141 ext. 101.
Our Lady of the Lake Free Will Dinner, 215 Lake Shore Dr E, Ashland.  Serving 11am to 1pm.  Delivery service is available.  Call 715-682-7620.
Bad River Lodge and Casino presents, "Thanksgiving Buffet" from 11am-7pm. Mashed potatoes and gravy, roasted turkey, wild rice, salad bar, dinner rolls, and much more! Adults: $15.99. Seniors: $11.99. Children 12 and under: $8.99. For more information, call 715-682-7121.
November 23:
'Tis the season for giving. Don't miss FREE GIFT FRIDAY at Solstice Outdoors and Solstice Main Street. Stores open at 9am. It's our way of saying thank you for shopping local. For more information, call 715-292-6561 or 715-682-3590.
Legendary Waters Resort and Casino presents live music by "Ron Occhino Show" at 7pm in the Lounge. For more information, call 800-226-8478 or visit legendarywaters.com
Stagecoach Bar and Grill presents live music, by "Strange Brew" from 9pm-1am. 315 Main St E, Ashland. For more information, call 715-292-6710.
Live Homegrown Music at the Sandbar from 5-8pm!
November 23-25:
Country Blossoms Holiday Open House,64715 Gilles Rd. Wreaths, holiday containers, kissing ball, Christmas decor galore!! Come on out and start the holiday season!! Fridays 6-9 pm; Saturdays 9am -4pm; Sundays 9am-3pm; during the week 9am-4pm. Santa will be at the greenhouse on Sunday, November 25. For more information, call 715-746-2345.
November 24:
Small Business Saturday! Go downtown and support the local businesses. For more information call 715-682-2500 or visit www.visitashland.com.
Shop Solstice Outdoors and Solstice on Main Street on Small Business Saturday and get a free $20 gift card with any $100 purchase.
Bad River Lodge and Casino presents, "Annual Holiday Craft Fair" 73370 US-2, Ashland, from 9am-3pm. Free admission. Vendors to book a table and for more details call 715-682-7121 ext. 1231.
Madeline Island Holiday Boutique at the Madeline Island Museum from 10am-4pm. Community members create an enticing variety of homemade and hand-crafted arts and goods for sale at this beloved traditional event held every year at the museum on the Saturday after Thanksgiving. This holiday event features local and regional arts and crafts and a soup lunch to benefit the island school parent/teacher association. What a wonderful way to kick off your holiday season! 888-475-3386, www.madelineisland.com or email madelineisland@wisconsinhistory.org. 
Ironwood Theatre presents, "Warren Miller Ski Movie" at 7pm. For more information and tickets, visit ironwoodtheatre.net.
A Tribute Show to the Lost nation String Band at the Harbor View Event Center in Washburn, at 7:30pm. Featuring: Warren Nelson, Jack Gunderson, Tom Mitchell. Randy Sabien, Ed Willett, and Mason Pavel. General Admission: $15 advance; $20 at the door; $5 children 12 & under. Advance reserved seating: $25. Tickets available at The Washburn Inn, Washburn Chamber, and Avol Books in Washburn, Keeper of the Light in Bayfield, and Salmagundi in Ashland. For more information, call 715-373-5671 or visit www.harborviewevents.com.
November 25:
Legendary Waters Resort and Casino presents, "Green Bay Tailgate Party" at 10am in the Casino Bar Lounge. $7 for 2 tap beers or 2 rail drinks, food and free shots of Apple Pucker with every Packer Touchdown Televised Pro Football Games. (They have the Sunday ticket). For more information, call 800-226-8478 or visit www.legendarywaters.com
Month Long Activities November
« Back to event list