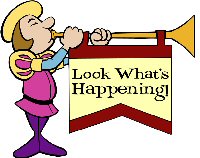 Here is a list of activities that are happening this week in the Chequamegon Bay Area:
February 19-20:
Chequamegon Theatre Association presents auditions for "Death by Design" performance, 210 5th Ave E, Ashland. For more information, call 715-682-5554 or visit www.ctatheatre.org.
February 19-25:
Northland College presents SnoFest, an excellent time to blow off steam in the dead of winter! It's a week packed with fun, safe, and exciting challenges that consist of teams and selected, senior judges. This year NCSA have some super fun changes to encourage everyone to join in on the fun. For more information, visit www.northland.edu or email ncsa@northland.edu.
February 20:
Home Expressions Presidents Sale, 116 Main St W. Stop in and see what Presidential Savings we have on merchandise.  715-682-2455.
February 21:
Dine for the Paws! Stop down to Hugo's Pizza, 221 Sanborn Ave, Ashland and support the CHA! From 3 – 7:30pm $6 of every $10 buffet purchase will go directly to the Chequamegon Humane Association.
Ashland Science On Tap presents Lorena Rios Mendoza, Ph.D. with "Microplastics Emerging Contaminants: A New Source of Toxic Compounds in Waters from Great Lakes and Oceans", 808 W. Main St., at 6:30pm. For more information, call 715-682-4200 or visit www.ashlandscience.org.
Our Lady of the Lake BINGO every Tuesday at 7pm in the Social Hall.  Progressive Blackout Jackpot!  Everyone is invited.
Sixth Annual Tony Woiak History Festival at Harbor View (former Steak Pit), Washburn presents "History of Skiing in the Chequamegon Bay Area" at 7pm. For more information, call 715-292-0024.
February 23:
Home Expressions Open House, 116 Main St W, from 9am-6:30pm. Stop in and try dip and  soup samples and register for drawings.  715-682-2455.
Ashland High School Boys Basketball vs South Shore, 5:45pm/JV & 7:15pm/V.  715-682-7089.
February 24:
Mt Ashwabay is open for skiing and boarding Friday nights from 4-9pm. Don't have a season pass? No problem! Lift tickets are $10 for youth grades 6-12 with FREE rentals. A BIG thank you to all the local businesses and individuals that help make this possible for our youth! www.mtashwabay.org
Community Dinner, in the fellowship hall of St. Andrew's Episcopal Church, 620 W. 3rd St., held each Friday from 5:30-7pm. A different area church provides the meal each week. For more information, call 715-682-5067.
Bay Area Film Society presents "Elle" at 7:30pm at The Northern Great Lakes Visitor Center, 29270 Co. Hwy. G. For more information, call 715-685-9983, or visit www.nglvc.org.
February 24-25:
Annual Father-Daughter Dinner Dance.  Calling all fathers and daughters, young and old! Hosted by the Lake Superior Elementary Parent Teacher Organization, from 6-9:30pm at the AmericInn Conference Center in Ashland. Tickets are $25 and available for purchase with cash only on January 17 at Lake Superior Elementary School from 4:30-6pm. For more information, call Tricia Lund at 715-682-7085.
February 24-26:
February 25:
Neighborly Bar 2017 Ice Fishing Tourney. Cash prizes for 7 categories, including lake trout, walleye, northern, perch, and other trout and salmon. Along with crowning of "King of the Bay" to whoever catches the largest fish. Entry fee includes contest, food, and prizes. All Wisconsin rules apply.  All fish must be registered by 4:45pm on February 25. Event features RAFFLES—MUSIC—FOOD—DRINK SPECIALS. For more information, call the Neighborly at 715-682-9908.
American Birkebeiner, on the 107-kilometer Birkie Trail from Cable to Hayward, for skaters, and 55K for classic skiers. North America's largest cross-country ski marathon. For more information, call 800-872-2753 or visit www.birkie.com.
Claus Kraetke Memorial Ice Fishing Jamboree at Donner's Bay Resort on the Turtle Flambeau Flowage, 2974 Hiawatha Rd., Butternut, from 7am-4pm. For more information, call 715-762-2555.
Chequamegon Food Co-op presents "Spanish Cuisine" at the Co-op, 700 W. Main St., from 10am-12pm. Fee applied. For more information, call 715-682-8251 or visit www.chequamegonfoodcoop.com.
Ashland Bayfield County Sportsmen 15th Annual Kids' Ice Fishing Contest, Kreher Park, Ashland, from 11am-2pm. Free to all kids ages 5-15. Two age classes: 5-9 and 10-15. First 300 kids get prizes. Bring your own poles and tackle. Register at pavilion before going on the ice.  For more information, call 715-373-2088.
Chance presents "Sessions from the Martin Hanson" with Bruce Burnside at The Northern Great Lakes Visitor Center, 29270 Co. Hwy. G., at 2pm. For more information, call 715-685-9983, or visit www.nglvc.org.
Ashland Chamber Music Society welcomes Twins Ports Choral Project at Our Lady of the Lake Catholic Church, at 7:30pm. For more information, call 715-682-5795, or visit www.ashlandchambermusic.org
« Back to event list