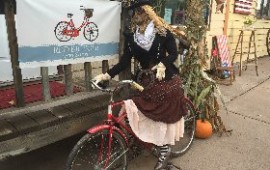 Scarecrow Contest Winners
1st Place Breakwater Cafe

2nd Place Northern State Bank

3rd Place Holiday Station Store on Ellis
Honorable Mention Super 8
On display Sept. 29 through Memorial Medical Center WhistleStop on Oct. 14.
It's time to build a scarecrow! Let's have some fun!!
The Ashland Area Chamber of Commerce presents the Annual "Scarecrow Contest"  Be creative!
We encourage you to build a Scarecrow and place it in front of your place of business.
First place prize is $75 in Chamber Dollars, AND 1/4 page ad in the Ashland Daily Press and the Evergreen Country Shopper.
Second place prize $50 in Chamber Dollars.
Third place prize $25 in Chamber Dollars.
Completed scarecrows should be on display Sepember 30 through Memorial Medical Center WhistleStop on October 14.
To register your Scarecrow, call the Chamber to be eligible for the prizes!  (715-682-2500) or email (ashchamb@centurytel.net).  Judging will take place the week of WhistleStop. Don't Miss Out!! Showcase your business/store front with a great scarecrow and you could be the winner!
Be sure to register your Scarecrow with the Chamber!  
Photos can be found on our Facebook Page
From East to West:1808 E Lake Shore Dr
Bad River Casino – 73770 Us Hwy 2
Breakwater Cafe – 1808 E Lake Shore Dr
NorthLakes Community Clinic – 719 East Main Street.
Thrivent Financial – 623 Main Street East
Color Center – 121 East Main St
Ellis Ave Holiday Station – 110 Ellis Ave
Ashland Historical Museum – 216 West Main St
A 2nd Look – 311 Main St W
Fiorio Wealth Advisors – 317 Main St W
Northern State Bank – 321 West Main Street.
Malmberg's  – 406 West Main Street.
Gabriele's German Cookies & Chocolates – 413 West Main Street.
The Shoe Shack – 408 W Main St
Bay City Cycles – 412 West Main St
Ace Hardware – 420 Lake Shore Dr West
Vaughn Library – Vaughn Ave & Main Street
Moore's Army Navy – 505 West Main Street.
Huhn Drug – 522 West Main St.
Red Bicycle – 707 West Main Street
Memorial Medical Center – 1615 Maple Lane.
Ashland Super 8 – 1610 Lake Shore Dr W
Freehands Lakeside Restaurant, Bar & Inn – 2521 West Lake Shore Dr
Benoit Cheese – 23920 County Hwy F
More to come….Keep checking
« Back to event list