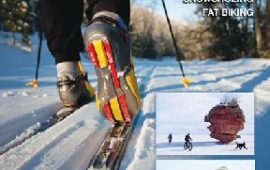 Hot off the presses!!!
Ashland/Bayfield Counties new Winter Trails Guide!
Get out and enjoy winter! This guide will help you get started with maps and information highlighting some of the places to find trails and recreation areas at the Top of Wisconsin. With hundreds of thousands of acres of public land and beautiful scenery, this is the perfect place to play outdoors. Have fun.
There's a contest for you too! 
Take a selfie at the trailhead of whichever trail you traversed to be entered into a drawing to win one of two fabulous prize packages, that include an overnight getaway.  One entry per trail for a total of 24 chances!  To enter the drawing, email your photo along with your name and where you're from (city/state) to info@travelbayfieldcounty.com.
Contest expires March 31, 2018
Click here to order one now. 
Click here for a downloadable pdf version.
« Back to event list