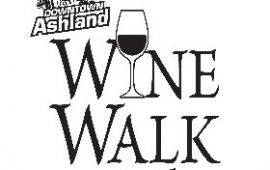 3rd Thursdays!
You know, Thirsty Thursday, Thankful Thursday, Throwback Thursday, and now 3rd THURSDAY!!!!!!
Downtown Retail Business will be open until 8pm on the 3rd THURSDAY of every month, with specials!!
Bargains!! Fun!! An evening of shopping!
May's Theme: WINE WALK
Purchase your Glass for $5.00 and sip and shop through downtown Ashland. Wine glasses will be sold by the Chamber Ladies at 415 W. Main St. (The Music Center building). Whiners will walk to participating businesses and taste wine, shop and "whine" about how much fun they had shopping store specials until 8pm.
Stores participating in the Wine Walk:
Red Bicycle, Lil' Red Furniture, New England Store, Moores on Main, Shoe Shack, Home Expressions, JET Travel & Tours, Superior floral & gifts, Solstice, Gabriele's German Cookies & Chocolates, The Shelter Shop,One on One Hair Design and Sears Hometown Store.   Other Stores will be open serving non-alcoholic beverages.
One per person, must be 21 & older. Bring proper I.D.
Must have our wine glass in order to participate in the wine walk.
WI State Statue Wine Walk Sec J 3.III must charge admission
« Back to event list