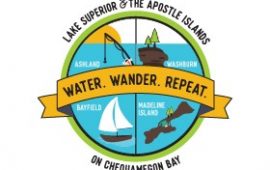 Come explore the beautiful Chequamegon Bay communities surrounding Lake Superior and the Apostle Islands. Lake access is plentiful with 12 public beaches, a host of boat landings, water sports, fishing, sailing, kayaking, and more. Cruise the 22 Apostle Islands and discover sea caves and lighthouses. Hike over 50 miles of groomed trails leading to waterfalls and sea caves.
Need a true getaway? The Chequamegon Bay region is the hub for many outdoor activities involving natural social distancing. There are countless hiking trails, waterfalls, and beaches to enjoy. Kayak trips, fishing excursions, and sailboat charters are available. Fall is here, and the orchards are open!
Start your Lake Superior adventure in the Chequamegon Bay––the cities of Ashland, Washburn, Bayfield, and Madeline Island are here waiting for you! Plan your next island vacation by visiting lakesuperiorwi.com.
Sponsored in part by the Wisconsin Department of Tourism.
« Back to event list