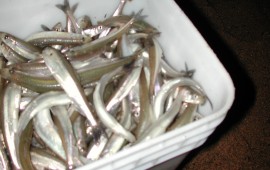 Smelt Raffle Tickets are $5.00.  With the purchase of your ticket you get a chance to win every day in the month of April.  Prizes are as follows: Monday – Friday $25.00; Saturdays $40.00; Sundays $50.00. Special drawings on April 19,Third Thursday and April 30, for $250.00 each !!
Winners will be posted on this page, on the Chamber's Facebook page, on the Superior Choice Credit Union marquee and announced on the Heartland Communications radio station WBSZ at 93.3 FM.
Good luck!  Call or stop in or order your tickets online!
Winners Are:
April 1: Anita Haukaas – $50.00
April 2: Kris Von Holzen – $25.00
April 3: Shelly Leding – $25.00
April 4: Kevin Stranberg – $25.00
April 5: Kent Dumonseau – $25.00
April 6: Andy Ledin – $25.00
April 7: Holly Evensen $40.00
April 8:  Faith in Action $50.00
April 9: Kit Doherty – $25.00
April 10: Annette Pufall – $25.00
April 11: Yvonne Bretting – $25.00
April 12: Ryan Kollauf – -$25.00
April 13:  Tim Oksuita – $25.00
April 14: Kayla Brandis – $40.00
April 15: Tammy Eckroad – $50.00
April 16: Diane Bayliss- $25.00
April 17: Karen St. Germain – $25.00
April 18: Tim Ledin – $25.00
April 19: Kent Dumonseau – $250.00
April 20: Krystle Karlinsky -$25.00
April 21: Tim Ledin – $40.00
April 22: Karin Pierce – $50.00
April 23: Anne Bochler – $25.00
April 24: Beth Kehoe – $25.00
April 25: Shannon Schultz – $25.00
April 26: Dottie Monroe- $25.00
April 27: Maria Hansen – $25.00
April 28: Tammy Eckroad – $40.00
April 29: Karen Eaton – $50.00
April 30: Faith in Action – $250.00
« Back to event list