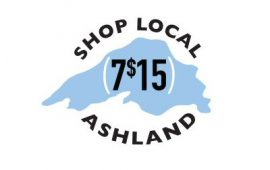 Shop 7$15
The Ashland Area Chamber of Commerce and Main Street board encourages you to sign the new  Support 7$15 Pledge.   Support 7$15 is a  pledge showing your commitment to supporting local as the year wraps up. By pledging, community members are tasked to select 7 Downtown Ashland businesses or area small locally owned businesses, that you'd miss if they went away, and spend at least $15 at each.  This could be done by shopping at a small retail business, shopping virtual with a small retail business, ordering take-out from a favorite restaurant,  purchasing gift certificates for a later use; the options of how to spend $15 at 7 different local businesses are endless with over 25 small locally owned businesses in Ashland. For each dollar spent at independent businesses, it returns 3x more money to the local economy than one spent at a chain store.
"Supporting local has never been more critical than it is right now.  We need small businesses to continue to be part of our strong local economy," states Mary McPhetridge, Director, Ashland Area Chamber of Commerce.  "The ask is simple and the challenge is fun!  By pledging to Support 7-$15, you embark on an adventure of choosing 7 Downtown Ashland businesses, spending at least $15 at each, and knowing you are helping make a difference in your community this Christmas season."
Those who sign the pledge and return their pledge form with receipts, will also be entered to win Downtown Ashland Gift Certificates throughout the months of November and December.
***Businesses have been adapting all year to provide you with safe and alternative ways to still support, shop, and dine with them.  With following new safety guidelines, mask and cleaning protocols, and implementing user-friendly online stores and ordering, the small businesses have proven yet again that they are here to serve the customer in whatever form makes them comfortable.
Lastly, and most importantly…..  Thank you for shopping in your local community this Christmas Season! – Ashland Area
« Back to event list