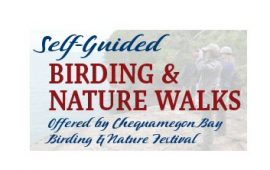 2021 "Repurposed" Chequamegon Bay Birding & Nature Festival
This May, we invite you to come to the Chequamegon Bay on Lake Superior, and enjoy one or all of the 25 "Self-Guided" activities created for the spring migration.  The activities are available only online.  We created "PDF" files for easy printing and easy viewing.  COVID can't stop the rebirth, renewal, and awakening of the plants and animals as the tender season of spring appears in northern Wisconsin.  That's why we created a "repurposed" shorter version of our annual Chequamegon Bay Birding & Nature Festival.  A version that is entirely "Self-Guided".
The Chequamegon Bay region is among the top birding destinations in the Midwest, with an amazing variety of high-quality habitats and opportunities to see hundreds of bird species. Extraordinary natural beauty and abundant public land make Wisconsin's Lake Superior Shoreline an ideal location for birdwatching and wildlife viewing.
We've handpicked 25 activities for you to choose from.  We are confident that birders and nature lovers of all skills and ages will find something in the mix that appeals to your source of birding curiosity, after-all, curiosity is the number one insight for getting up at the crack of dawn and listening for those magnificent melodies, the pursuit of the shorebirds or straggling songbirds, or chasing that one, rare, bird that is on your Bird-Bucket-List!  The 25 activities are all "Self-Guided".  No leaders, no groups, no organization… Just you and nature… and the birds!!
The Chequamegon Bay area is the place to enjoy the outdoors in all of its splendor and you can social distance…. Naturally..
We miss the personal and social interactions we've come to enjoy with all of our bird and nature participants over the last 13 years, and we couldn't let another year slip away without offering you a chance to come up north and enjoy the spring migration… Maybe we'll run into you out in the woods or on the shoreline, you never know what the day will bring.  But know that you are always welcome in our neck of the woods… The beautiful Chequamegon Bay area!
Printable Versions
2021 Self-Guided Birding & Nature Walks
2021 Self-Guided Birding & Nature Walks Map
Normally, on non-covid years, we have our Chequamegon Bay Birding & Nature Festival the 3rd week in May.  Join us for the Annual Chequamegon Bay Birding and Nature Festival next year at the peak of spring migration, with wonderful leaders!  For more information go to www.birdandnaturefest.com.
« Back to event list