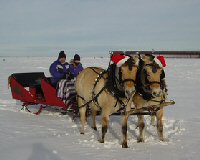 Northwoods Harness Club presents the 33rd Annual Sleigh & Cutter Rally at the Northern Great Lakes Visitor Center, January 12, 2019. 1800′s costumes, antique sleighs. Food served on grounds.
Hook-up time is 11:00 a.m., narrated exhibition starts at 1 p.m.
Free admission.
Free sleigh rides from 11 a.m. to 12:30 p.m.
For more information, call 715-682-2500.
« Back to event list