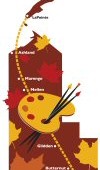 Looking for something to do this weekend?…
Follow the Mural Brick Road … in the county of the land of Ashland.
A fun way to enjoy the beautiful murals in Ashland County!

Many of you know Ashland is the "Historic Mural Capital of Wisconsin."  But there are murals throughout Ashland County: Glidden, Butternut, Mellen, Marengo and Ashland.  This is a fun way to get out and do an adventure by yourself or with your family.
Print out the question, and take a trip through Ashland county.  Take photos while you are doing the Treasure Hunt and post them on our Facebook page. Once you are done, check out the answers below.
#1 Mural Brick Road Treasure Hunt Questions
#2 Mural Brick Road Treasure Hunt Questions
#3 Mural Brick Road Treasure Hunt Questions
#1 Mural Brick Road Treasure Hunt Answers
#2 Mural Brick Road Treasure Hunt Answers
#3 Mural Brick Road Treasure Hunt Answers
« Back to event list