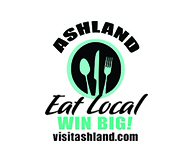 Winners of Eat Local Win Big
Ester Pufall – $100
Robert Lowndes -$100
Janet Haskins – $100
Support the many small, local dining establishments in Ashland…and WIN Chamber Dollars! 
How can you help support our local eating establishments?
This New Year the Ashland Chamber of Commerce is encouraging you to support our local dining establishments by dining in, ordering take-out or delivery.
The Ashland Chamber of Commerce is offering 3 Drawings of $100.00 in Chamber Dollars each for eating local!
The Ashland Chamber and Local Dining Establishments want to emphasize the importance of supporting our local eating establishments during this pandemic. The New Year is a time we usually tend to stay in more, we are asking you to keep our local dining establishment in the forefront and dine in, order out or have it delivered!
Want to win one of three $100 in Chamber Dollars just by eating?   It's easy:
Dine in, order take-out or delivery at a local restaurant in Ashland, and keep your receipts starting Friday, January 8. Receipt entry deadline, January 29 drawing February 1;
Staple all of your receipts, or copies of receipts, to an entry form, or you can pick one up at many dining establishments. We will do the math!
Forms and your receipts can be remitted by dropping them off at the Ashland Chamber office, 1716 West Lake Shore Dr. or by mailing them to P O Box 746, Ashland, WI or email them to info@visitashland.com
For every $10 you spend at a Chamber member dining establishment between January 8 and January 29 you will receive one entry.
Here is a list of the Chamber Member Dining Establishments:
2nd Street Bistro, Arby's, Ashland Baking Company, Black Cat Coffeehouse, Breakwater Restaurant, Burger Barn, Burger King, Culvers, Deep Water Grille, El Charro, El Dorado, Frankie's Pizza, Hugo's Pizza, Lakeshore Café, Little Ceasar's, McDonalds, New China Restaurant, Pizza Pub, Sandbar Restaurant, Subway (901 Lake Shore West),
The Alley and The Gitch Nutrition.
Frequently Asked Questions :
Q) Do I need to submit a separate entry form every time I spend $10? A) No. We'll do the math for you and give you one entry for every $10.
Q) I submitted my receipts, but now I spent another $10. Can I get another entry? A) Yes! You can submit your receipts as many times as you would like over the course of the entry period, but be sure to read the answer to the next question for more details!
Q) Will you add all of my receipts together? A) If you submit all your receipts on one entry form, then the answer is yes. $30 spent at numerous locations would give you a total of 3 entries. However, if you submit numerous entry forms over the entry period, the math will be done for whatever receipts are attached to each form.
Q) Can I send copies of my receipts? A) Yes
Q) Where is the entry form?  A) Click here for a pdf.
Q) How old must you be to participant?  A) Must be 18 or older to participate.
Q) Do Business Gift Certificate purchases on the Chamber Online store count?  A) Yes!
Thank you for Eating Local!
« Back to event list