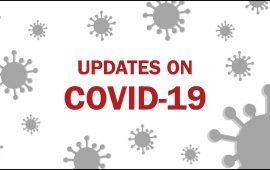 COVID updates 03/03/2021
Webinar Series: PPP Updates for Your Small Business
The Small Business Administration has some key changes to the Paycheck Protection Program (PPP) which will be available for a limited amount of time to ensure America's smallest businesses get exclusive access.
If you are a small business owner with 20 employees or less, or are self-employed; there is new information for you.
Please join us for a series of webinars hosted by the U.S. Small Business Administration, Public Private Strategies Institute, & other stakeholders to hear about:
What steps you can take now to take advantage of this special opportunity, which closes at 4:00 P.M. CST, Tuesday, March 9th, 2021
Additional changes and recent policy announcements made by Biden-Harris Administration
Have your questions answered by SBA Leadership
Training Schedule-Register Today!
Mar. 3, 11:30 a.m., Women Business Owners, Click here to register
Mar. 4, 2:00 p.m., Asian-American + Pacific Islander, Native American + Tribal Small Business Owners;  Click here to register.
Mar. 5, 12:00 p.m. Black + African-American Small Business Owners, Click here to register.
Mar. 5, 2:00 p.m. Hispanic Small Business Owners, Click here to register.
Mar. 6, 1:00 p.m. Veterans, Self-Employed Business Owners, Click here to register
Mar. 8, 2:00 p.m.  LGTBQ Business Owners, Youth Entrepreneurs, Restaurant Owners, Click here to register.
____________________________
EVENTS  Click this link
______________________________________________
Some people have asked, What can I do?
____________________________________________
Previous Update Notices & E-Blasts
As per Memorial Medical Center:
Coronavirus (COVID-19) Screening Available at No Cost
Ashland, WI – Memorial Medical Center is working closely with our community partners in response to the novel Coronavirus (COVID-19). Several of our partners are offering free screenings online via e-visits or by calling their toll-free numbers if any of the following is true:
You begin to experience respiratory symptoms such as fever, cough or shortness of breath.
You have had contact with someone with a confirmed diagnosis of COVID-19 or who is under investigation for COVID-19, or is ill with respiratory illness.
You have traveled internationally or been to an affected area in the United States where community-based spread of COVID-19 is occurring.
In order to protect our community and prevent spread, it is important that individuals who believe they may have been infected with Coronavirus (COVID-19) use the following process to direct your care. If you are experiencing a medical emergency, call 911.
Essentia Health is providing free screenings to anyone experiencing symptoms by calling their toll-free phone number at 1-833-494-0836 or through an e-visit on their heath portal, MyHealth. The e-visits provide 24/7 access to connect to an Essentia Health Care Team without requiring you to leave home. E-visits can be found at essentiahealth.org/services/e-visit.
St. Luke's Chequamegon Clinic is also offering two, free E-Care visits per user. You can also call their toll-free phone number at 1-218-249-4200 to complete a COVID-19 screening. E-Care is open 7:00am – 8:00pm and can be found at slhduluth.com/ecare, and the toll-free line is open 24/7.
NorthLakes Community Clinic can be reached at (715) 685-2200.
Main Street Clinic can be reached at (715) 682-5601.
Physicians and advanced practice providers will make the decision to test patients for influenza and COVID-19 in consultation with local health departments.
For those that have flu or cold-like symptoms, please stay home from work or school, and practice social distancing. If symptoms worsen, or you have any concerns, please call your primary care provider before visiting a doctor's office, urgent care or emergency department.
In order to protect yourself, the CDC strongly encourages the following recommendations:
Wash your hands often, and for at least 20 seconds
Use hand sanitizer that contains at least 60% alcohol
Get the flu shot
Avoid touching your eyes, nose and mouth
Avoid close contact with people who are sick
Stay home when you are sick
Put distance between yourself and other people
Stay home as much as possible
Clean and disinfect frequently touched surfaces daily
For Latest Business News and Updates click here.
« Back to event list