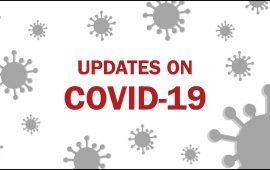 COVID updates 10-19-2020
Good Monday to everyone!
Just a reminder if you didn't hear… There are new grants from the State of Wisconsin.  Here is a run down and the application process opened today and runs through October 28th.
WEDC is announcing the Phase 2 of, " We're All In", Grants:
The, "We're All In Small Business Grant", application portal on the Department of Revenue website opens 8 A.M. on Monday, October 19, 2020, and ends at 11:59 P.M. on November 2nd, 2020.  The application will be live on the Department of Revenue's website on Monday, October 19th, 2020 at revenue.wi.gov.
A business may apply for the," We're All In", Small Business Grant if it:
·         The business started operating prior to January 1, 2020 and operated in 2020;
·         Is Wisconsin-based and for-profit;
·         Employs 50 or fewer full-time equivalent (FTE) employees, including the owner; and
·         Has more than $0 but less than $1 million in annual revenues.
Businesses will not be eligible for the grants if they are:
·         Part of a national chain, unless the business is a third-party franchise;
·         The business must not be a governmental unit or primarily engaged in any of the following North American Industry Classification System (NAICS) codes beginning with:
o    111XXX – Crop Production
o    112XXX – Animal Production or Aquaculture
o    5311XX – Lessors of Real Estate
o    813XXX – Nonprofit Organizations
To prepare for the application process, businesses should be ready to input information from their 2019 taxes into the Department of Revenue application:
·         Have filed their 2019 federal and Wisconsin taxes.
·         Identify the North American Industry Classification System (NAICS) code: This information may be included in a business's tax return, or through the NAICS website: https://www.naics.com/naics-code-description/.
Here are some other grant programs you can subscribe to, if you are interested, by following these links. You can sign up for updates/be notified when the application goes live.
COVID-19 Out-of-School Support Grant Program https://public.govdelivery.com/accounts/WIGOV/subscriber/new?topic_id=WIGOV_117
COVID-19 Lodging Property Grant Program https://public.govdelivery.com/accounts/WIGOV/subscriber/new?topic_id=WIGOV_118
COVID-19 Movie Theater Grant Program https://public.govdelivery.com/accounts/WIGOV/subscriber/new?topic_id=WIGOV_119
COVID-19 Live Music and Entertainment Venue Grant Program https://public.govdelivery.com/accounts/WIGOV/subscriber/new?topic_id=WIGOV_120
____________________________
Here is a sneak preview of a 30 second Girl's Getaway commercial we are working on!  We will be running them late 2020 & 2021. Thanks to Lisa & Greg Martinsen for allowing their daughters to star in this commercial!!  It is sure to put a smile on your face.   https://vimeo.com/465879445/948d9da42f
Here is  a sneak peek at the 15 second fishing – for social media!  https://vimeo.com/465873411/80914c8c64
_________________________
Color Our World – New Day Advocacy Center Virtual Fundraiser
This October, during Domestic Violence Awareness Month, we will be hosting a 31-day virtual fundraising event! Due to the COVID-19 Pandemic our world is currently facing, our fundraising efforts have had to pivot to an online platform. New Day Advocacy Center (NDAC) is kicking off its first ever VIRTUAL DRAWING! (Monday through Friday drawings, each morning. See Rules for more details.)
NDAC has been a partner in the Ashland/Bayfield communities offering vital services to victims of domestic and sexual violence. In the midst of the current pandemic NDAC has remained open and fully operational but has had to be creative in ways to serve the community, keep staff and clients safe and continue to meet its mission each and every day. NDAC fundraising efforts have taken on the same challenges and we are excited to bring a new twist to raising money and engaging with our community family and friends!
Come join us to help raise money to keep these vital services in our community while having a chance to win prizes in many different drawings (All Things Apple, Mr. Fix-it, Eat-Stay-Shop Local, Outdoor Adventures, Honorary Holidazzle, etc.).
RULES
Read the rules below and check out the photo each day to see what you could win!
To enter the drawing, click the link below. Suggested donation is $5 per entry. Multiple entries are permitted – suggestion donation of $20 for 10 entries and $50 for 30 entries into the drawing pool!
Donate here:  https://www.paypal.com/cgi-bin/webscr?cmd=_s-xclick…. No purchase necessary.
Email christa@ndshelter.org or call 715-682-9566 with any issues entering online. This is a fundraiser for the essential operations of this organization. In order to comply with Charitable Gaming Laws, we must honor any request for free entry, but we hope that you can find it in your heart to make a donation to this wonderful cause.
1. Drawing items will be posted at 7am each business day through the month of October – Monday through Friday. Friday's post will be for Monday's drawing.
2. Entries are valid from 7am – 8pm each day there is a drawing. Winners will be announced at 9am the following morning – the winner will be contacted on Facebook Messenger and by email. Any entries received after 8pm will be automatically be put into the following day's drawing pool.
3. If there is no response by the winner by 3pm the following day then another drawing will be conducted from the same entry pool.
4. All entries will be entered into a spreadsheet. Drawings will be done using Facebook Live around 9am Monday-Friday! Numbers will be drawn from a hat. The person who entered the names into the spreadsheet will not be participating in the live drawing. Whichever number is drawn will correspond with a name on the spreadsheet and that person will be the winner!!
5. Winners will arrange for pick-up of item(s) at New Day Advocacy Center. If you are unable to leave home and live within 10 miles of NDAC, we can arrange a no-contact delivery.
*This fundraiser and drawing are not in any way sponsored by Facebook. No purchase necessary
_____________________________
Places that have COVID Supplies available.
EVENTS  Click this link
______________________________________________
Some people have asked, What can I do?
____________________________________________
Previous Update Notices & E-Blasts
As per Memorial Medical Center:
Coronavirus (COVID-19) Screening Available at No Cost
Ashland, WI – Memorial Medical Center is working closely with our community partners in response to the novel Coronavirus (COVID-19). Several of our partners are offering free screenings online via e-visits or by calling their toll-free numbers if any of the following is true:
You begin to experience respiratory symptoms such as fever, cough or shortness of breath.
You have had contact with someone with a confirmed diagnosis of COVID-19 or who is under investigation for COVID-19, or is ill with respiratory illness.
You have traveled internationally or been to an affected area in the United States where community-based spread of COVID-19 is occurring.
In order to protect our community and prevent spread, it is important that individuals who believe they may have been infected with Coronavirus (COVID-19) use the following process to direct your care. If you are experiencing a medical emergency, call 911.
Essentia Health is providing free screenings to anyone experiencing symptoms by calling their toll-free phone number at 1-833-494-0836 or through an e-visit on their heath portal, MyHealth. The e-visits provide 24/7 access to connect to an Essentia Health Care Team without requiring you to leave home. E-visits can be found at essentiahealth.org/services/e-visit.
St. Luke's Chequamegon Clinic is also offering two, free E-Care visits per user. You can also call their toll-free phone number at 1-218-249-4200 to complete a COVID-19 screening. E-Care is open 7:00am – 8:00pm and can be found at slhduluth.com/ecare, and the toll-free line is open 24/7.
NorthLakes Community Clinic can be reached at (715) 685-2200.
Main Street Clinic can be reached at (715) 682-5601.
Physicians and advanced practice providers will make the decision to test patients for influenza and COVID-19 in consultation with local health departments.
For those that have flu or cold-like symptoms, please stay home from work or school, and practice social distancing. If symptoms worsen, or you have any concerns, please call your primary care provider before visiting a doctor's office, urgent care or emergency department.
In order to protect yourself, the CDC strongly encourages the following recommendations:
Wash your hands often, and for at least 20 seconds
Use hand sanitizer that contains at least 60% alcohol
Get the flu shot
Avoid touching your eyes, nose and mouth
Avoid close contact with people who are sick
Stay home when you are sick
Put distance between yourself and other people
Stay home as much as possible
Clean and disinfect frequently touched surfaces daily
For Latest Business News and Updates click here.
« Back to event list