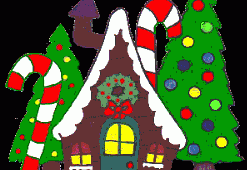 Garland City of the North Christmas Decorating Contest
The Ashland Chamber, along with our sponsors listed below, are hosting a Business and Residential Christmas Decorating Contest for City of Ashland Residents and Businesses.  see map
The contest is free and open to all City of Ashland residents and businesses. see map
Contest information:
Participation is open to all businesses and residents within the City of Ashland. (each category will be eligible for prizes)
Entry is free, no cost or fees apply.  However you must register!
Judges are not eligible to participate.
Entry Applications must be received no later than 5pm on Friday, December 10, 2021.  Applications should be dropped off at the Ashland Chamber Office, 1716 West Lake Shore Dr or submitted via email to info@visitashland.com. Upon submission, you will receive confirmation of your entry via email. If you don't receive an email confirmation by December 13th,  contact the Ashland Chamber 715-682-2500.  The Ashland Chamber is not responsible for entries not received.
2021 Garland of the North Decorating Contest Application Form
The contest is for exterior decorations only, including decorations in windows that are visible from the exterior. Judging will be done from the outside only.  Contest is limited to what can be seen from the street side of the property at night. People or live animals are NOT allowed as part of the display. Participants are requested to keep their business and residence decorated through January 1st, so that the community may view and enjoy them. Judging will take place the week of December 13th, from dusk until 9pm. Please have your decorations turned on by 5pm. Winners will be notified on Saturday, December 18th. Judges' decisions are final.
Judging will be based on the following criteria:
Theme – Christmas
Creativity (originality, unique design and creative use of lights and decorations),
Arrangement (display and placement of decorations),
Overall Appearance (color coordination, balance, and overall attractiveness)
Special Effects (sound effects, animation, etc.)
Participants agree to have their address and photos posted on the Ashland Chamber Website, Facebook page and map.   Pictures may also be posted in other social media outlets and in local media publications or websites. Participants agree there will be no compensation of any kind for said posting or publication.  Even if I don't win I give permission to post pictures.
A minimum of one prize will be awarded, with a maximum of three prizes awarded.
Winners will be announced on Saturday, December 18 via the Ashland Area Chamber of Commerce Facebook Page.
Be creative, be festive, have fun.  Happy Holidays!
Prizes are for each category (Business and Residential):
1st place $1000 Chamber Dollars for each category (=$2,000)
2nd place $500 Chamber Dollars for each category (=$1,000)
3rd place $250 Chamber Dollars for each category (=$500)
Total prizes awarded equal $3,500.
Chamber Dollars are accepted just like cash and keep the money local in our bricks and mortar Chamber Member Businesses!! You will receive a list of businesses from Sears to Home Expressions (over 200 businesses!)
Business Sponsors are:  Xcel Energy  and the Ashland Chamber.
Residential Sponsors are: The Ashland Chamber, Northern State Bank, Chippewa Valley Bank, Northwoods Community Credit Union,   Superior Choice Credit Union, Associated Bank,  and BMO Harris Bank.  Thank you Sponsors!
« Back to event list