Christmas Activities: Santa Sightings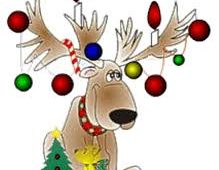 Business Specials and Open Houses
December 20:
Partners of MMC will be having a cookie sale from 7:30am-11am in the Twin Islands Room. Accepting cookies for donation until 3pm on December 19th. Drop offs can be made at the Information desk or the Gift Shop.  For more information call 715-685-5180.
Santa Sightings
No more santa sightings that we know of at this time.
Concerts/Plays
December 21:
Marengo Valley School Winter Music Program, 62408 St. Hwy. 112, at 1pm. For more information, call 715-278-3286.
December 21-22:
Blue Canvas Christmas at 7pm. The name may be blue, but Blue Canvas Christmas is anything and everything! Bring on the holiday season with a musical performance by the Blue Canvas Orchestra. Blue Canvas Christmas features songs of old and new, holiday classics, instrumentals, and an audience sing-a-long. A seasonal musical performance that's bound to fill your hearts with holiday cheer! Presented at Stage North Theatre, 123 W Omaha St in Washburn. Tickets: $26 for adults. $20 senior. $15 for youth. To get tickets go to bigtop.org or call 715-373-5552.
Just something for fun!
December 23:
Mushing Through Moquah Dog Sled Event from 1-3 at the Pine Creek Pit Shop, 68690 Prin Creek Rd. For more information call 715-682-2070.
« Back to event list