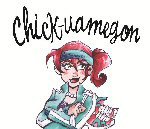 Chick-uamegon is Back!!!
May 22, 2021
GIRLS still just wanna have FUN!!  And we are doing it here in Ashland, WI , with a race for every chick!!
On Saturday, May 22, get your girlfriends together and come to Ashland dressed in your blingest best and walk, run, skip or jump in the eighth annual Chick-uamegon 1-mile/5k/10k walk/run.
Due to COVID-19 We are changing things up!  This year's race will be truly a FUN RUN.
In place of tiaras and medals, each finishing chick will receive a $5 Chamber Dollar Certificate to be spent in our community, at Bricks and Mortar Chamber Member Businesses.  Ashland Retailers will have specials.
Prizes will be given away to;
3 places for Blingest or Best Costume ( $50/$25/$25 in Chamber Dollars);
Blingest Face mask ($25 in Chamber Dollars);
Blingest Shoes/Sneakers/Boots/whatever is on your feet ($25 in Chamber Dollars);
Best Dressed Volunteer ($20);
3 random drawings (each $20 in Chamber Dollars)
Chicks will be social distanced at the start. Face masks or coverings are mandatory until the race has started.
Please add me to the Chick-uamegon E-blast list.
Two ways to register
Registration and Packet Pick-up:
Thursday, May 20 & Friday, May 21 at the Ashland Chamber of Commerce 9am-5pm
Saturday at the pavillion behind the Bay Area Civic Center and the Bretting Community Center, 400 4th Ave West!
For race information, go to www.chick-uamegon.com – registration is now open.
« Back to event list