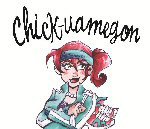 November 3, 2018
Girls just wanna have fun!!  So come out and have some fun with us!
Race begins at 10am behind the Bay Area Civic Center in the Railyard Park.
Packet pick-up 8am-9:30am at the Bretting Community Center.
Two ways to register
Women's Expo & Craft Show, 9am-3pm, at the Bretting Center, Downtown Chick specials and a whole lot more. Girls, get your BLING on!
For race information, go to www.chick-uamegon.com – registration is now open.
« Back to event list