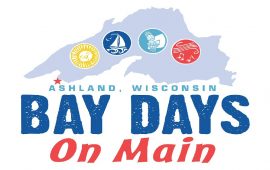 Bay Days on Main
July 15 & 16, 2022
Friday & Saturday
Main Street Ashland
All city summer celebration on the shores of Lake Superior in conjunction with Ashland's 1st All School Reunion!
Lots of fun planned Strongman Competition, Bam Bam, Toddler Run, Big Wheel Races, Baby Crawl, Pie-Eating, 3 on 3 basketball, Sea Hampsters, Camel rides and petting zoo, climbing wall, dunk tank and Music from  Robby Vee, & JD Bass and a Car Show, Fun Run, Farmer's Market, and of course… Food & Crafters.  And the All School Reunion Street Dance on Saturday night!  We invite you to come down to main Street for a fun festival which is sure to be a huge success!!
Click here for the Bay Days Schedule of Events.
Click here for the Ashland All School Reunion Events
2022 Registration Forms
Click here for the Schedule of Events.
For more information on all activities go to www.ashlandbaydays.com or call 715-682-2500.
« Back to event list