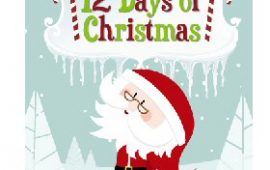 12 Days of Ashland Christmas
12 Days of Christmas is a statewide promotion with Wisconsin Economic Development Corporation.  Ashland, along with several other communities, are participating in a statewide celebration of the 12 Days of Christmas.   From November 29th through December 11th, these communities will promote the holiday season, in our communities, with a list of activities during the 12 days and a special retail element on social media.  Each day, a retailer will be highlighted on the Ashland Chamber Facebook page. Folks can share the post and automatically be entered into a contest to win a gift certificate at the highlighted business.  It's a great way to share information about our small businesses and a chance to win prizes for just sharing information.  Click here for a list of the activities for the 12 days of Ashland Christmas.
List of Retailers to be highlighted on Facebook:
Each day (November 29-December 10) a business will be highlighted on our Chamber Facebook Page.  On the given day, if you Share the business post from our Facebook page, on your Facebook page, between the hours 7am-7pm and write "share" in the comment section, you will be eligible to win a gift certificate to that business.  If you share the post after 7pm, or you do not write share in the comment section the computer program we use to pick winner will not include you!!! The winner will be notified the following day and the gift certificate can be picked up at the Ashland Chamber Office.
Wednesday, November 29, Spirit of the North Gift Shop – Winner Karen Smart
Thursday, November 30: Red Bicycle – Winner Whitney Olby
Friday, December 1: Solstice on Main –  Winner Jennifer Kretzschma
Saturday, December 2: Shoe Shack – Winner Lisa Sturgal
Sunday, December 3: Sear's Hometown – Winner Danielle Jolly-Sickrich
Monday, December 4: Chequamegon Food CO-OP –  Winner Maggie Vandevoorde
Tuesday, December 5: Sherwin Williams – Sarah Oliphant
Wednesday, December 6: Home Expressions – Laurie Gregor
Thursday, December 7: New England Store – Terri Stephenson
Friday, December 8: Black Fridays – Tiffany Hudack
Saturday, December 9: Moore's Army Navy Store – Kelly Maday
Sunday, December 10:  Color Center – Megan Sell
« Back to event list