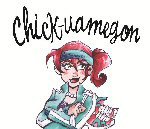 November 4, 2017
Girls just wanna have fun!!  So come out and have some fun with us!
Race begins at 10am behind the Bay Area Civic Center in the Railyard Park
Women's Expo, Chick specials and a whole lot more. Girls, get your BLING on!
For race information, go to www.chick-uamegon.com – registration is now open.
November 3-6:
Chequamegon Theatre Association presents "Annie" performance, 210 5th Ave E, Ashland. Thursday-Saturday: 7:30pm. Sunday: 2pm. Tickets available at Moore's Army Navy. For more information, call 715-682-5554 or visit www.ctatheatre.org.
November 3-4:  
Cherryville Country Store Christmas Specials, 27700 Cherryville Rd.
 November 4:
W.I.T.C. Harvest  to Holiday Vendor & Craft Sale – 9a.m. to 2p.m.
Women's Expo – 9 a.m. to 3 p.m.
Chick Shopping Specials downtown
Good Shepherd Lutheran Church Packer Palooza – 5 to 7 p.m.
The Fur Ball – 6 to 10 p.m. at the AmericInn
Northland College Winds Concert – 7:30 p.m.
« Back to event list