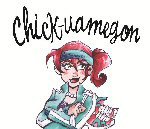 November 4, 2017
Girls just wanna have fun!!  So come out and have some fun with us!
Race begins at 10am behind the Bay Area Civic Center in the Railyard Park.
Packet pick-up 8am-9:30am at the Bretting Community Center.
Women's Expo & Craft Show, 9am-3pm, at the Bretting Center, Downtown Chick specials and a whole lot more. Girls, get your BLING on!
For race information, go to www.chick-uamegon.com – registration is now open.
November 2-4:
Home Expressions Christmas Open House – 116 Main St West.  Thursday 5pm-8pm; Friday 9am-5:30pm; and Saturday 9am to 4pm.
November 2-5:
Chequamegon Theatre Association presents "Annie" performance, 210 5th Ave E, Ashland. Thursday-Saturday: 7:30pm. Sunday: 2pm. Tickets available at Moore's Army Navy. For more information, call 715-682-5554 or visit www.ctatheatre.org.
November 3:
Fashion Show at Freehands Lakeside with Kelly & Crew.  5pm doors open with Fashion Show at 5:30pm.  Admission $5 and tickets are available at the door.  Admission includes 1 glass of Proseco and lite bites.  10% of clothing sales will be donated to the BRICK Ministries.  Discount for clothing purchase available in exchange for a donated non-perishable item.
November 3-4:  
Cherryville Country Store Open House Specials, 27700 Cherryville Rd. 10am-4pm
 November 4:
W.I.T.C. Harvest  to Holiday Vendor & Craft Sale – 9am – 2pm.
Women's Expo – 9am – 3pm.
Chick Shopping Specials downtown
Rustic Valley Bazaar at the Ashland High School 9am-3pm
Ignite Fitness Open House
Good Shepherd Lutheran Church Packer Palooza – 5 – 7pm.
The Fur Ball – 6 -10pm at the AmericInn
Chequamegon Symphony Orchestra presents Dancing with Death  – 7:30pm at the Alvord Theatre
« Back to event list